Motorola latest rival to mock Apple with #iLost ad
Motorola Mobility, a division of Google, has joined the fray of smartphone makers taking aim at Apple with an ad that mocks the troubled Apple Maps application.
The app, which replaced Google's Maps app in last Thursday's release of iOS 6, has come under fire for showing points of interest in the wrong place, providing dodgy directions, its poor quality satellite images and having poor coverage outside major cities.
Following in Samsung's and Nokia's footsteps, both of whom have have used satirical video ads to take on Apple and the iPhone 5, Motorola released an ad that compares Google Maps on its Droid Razr M with Apple's version on an iPhone 5, labelling Apple's as '#iLost'.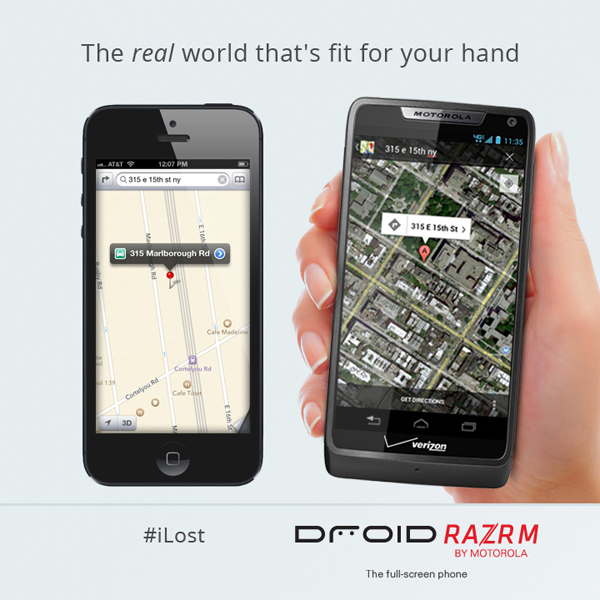 The ad, first posted Friday on Google +, was accompanied by the text, "Looking for 315 E 15th in Manhattan? Google Maps on Droid Razr M will get your there and not #iLost in Brooklyn."
Other examples of problems with Apple Maps have included an extra airfield for Dublin, problems with various place names, and Sydney's flagship George Street store appearing on the wrong side of the road.
An Apple spokeswoman told AllThingsD on Friday that the map service was launched with the knowledge that "it is a major initiative and we are just getting started with it… We are continually improving it and as is a cloud-based solution, the more people use it, the better it will get… We appreciate all of the customer feedback and are working hard to make the customer experience even better."
The #iLost hashtag appears to be gaining traction with a number of satirical posts on cropping up on Google+, including one with a car smashing through a crowd of bicyclists and a meme of actor Tom Hanks marooned in the film Castaway after trying to use the app accompanied by #iLost.
With Macworld.