New Myspace emerges with renewed music focus, Facebook integration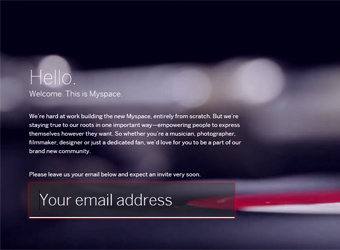 The new Myspace, registrations for which opened today, will allow users to sign in with Facebook, return to its roots as a music-focused service and appears to feature a horizontal Pinterest-style interface.
Fifteen months after the social network was acquired by US-based digital media company, Specific Media, a video has been released introducing users to Myspace's new layout and functionality of the site.
Redesigned by Brisbane agency Josephmark, the service is set to return to its roots in music with the launch video featuring Justin Timberlake, who also has a stake in the relaunching business. From the details shown in the video, it appears Myspace will enable users to connect with artists, browse albums, find popular songs and follow what their friends are listening to.
The video also reveals that it will be possible for users to log in with Facebook or Twitter and import photos or other information from there. The layout takes on a pinboard-style appearance while status updates look similar to the mobile app Path.
Mashable reports that Myspace has entered into a partnership with Panasonic, whose new range of VIERA ConnectT-enabled HDTVs will feature an app called MySpace TV, allowing viewers to see what their MySpace friends are watching and comment through the TV set, smartphones and tablets.
More to follow.
The new Myspace from Myspace on Vimeo.