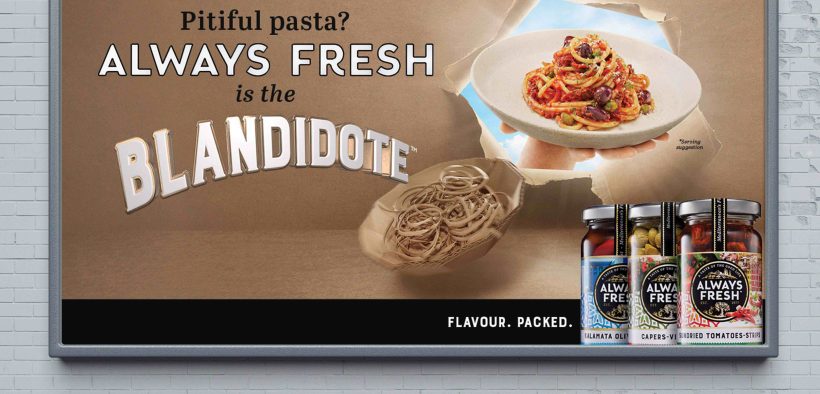 Always Fresh has rebranded its pickled vegetable range as the 'blandidote' to boring midweek meals.
The range of deli style meal ingredients include jarred olives, sun dried tomatoes, capers, peppers and mixed vegetables will "trump the tedious", according to the new campaign.
The food company has cooked up the word 'blandidote', a catchy portmanteau of 'bland' and 'antidote' with creative agency By All Means.
As for the campaign, it's rolling out across broadcast video on demand, radio, out of home advertising, digital and social, with media planning and implementation from Havas Media Network.
"Sick of mediocre midweek meals that taste like nothing? Always Fresh has the blandidote. De-bland dull midweek meals with our range of flavour-packed deli style ingredients," the promotional video states.
Radio and influencer ads to promote Always Fresh 'blandidote' campaign
The radio spot depicts a couples counselling session where the topic of cooking for one another descends into an argument after accusations of a "pathetic pizza" on wednesday night. The counsellor then suggests Always Fresh's product range could be the blandidote to the marital woes. 
Melbourne Football Club star Christian Petracca has teamed up with Always Fresh for the campaign. Petracca's home cooking instagram has taken off in recent months, where he posts recipes and delights fans with healthy meals fit for an elite athlete.
In a recent paid promotional post he provided a recipe for pasta alla puttanesca using Always Fresh' pitted kalamata olives, anchovies and capers. He wrote in the caption the pickled veggies were "the blandidote to midweek meals." 
Owned by SunRice Group, and part of the Riviana Foods portfolio, Always Fresh offer a wide range of deli-style snacks including anchovies in olive oil and condiments from balsamic vinegar to olive oil. They also have a line of entertainer crackers featuring grissini, mini toasts and crustini.