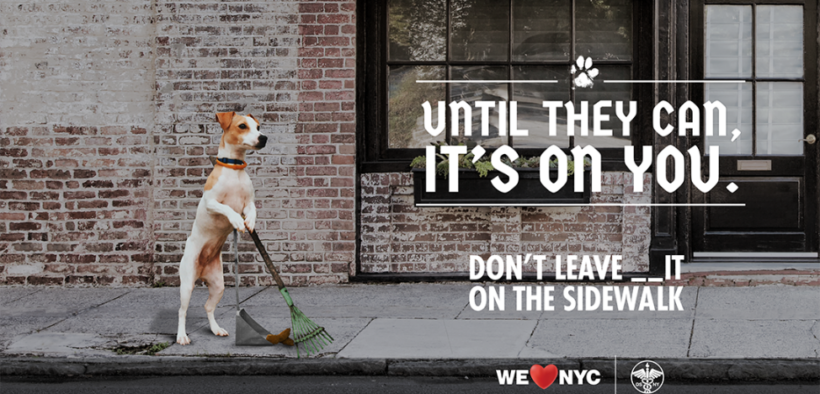 The city Department of Sanitation (DSNY) is airing out New Yorkers' dirty laundry through a series of funny yet brash ads on their illegal dumping habits with an anti-litter campaign.
New York City's sanitation department is carrying out the city's first new trash pickup marketing plan in 15 years, and the campaign aligns with the recently refreshed We [heart] NYC slogan.
The department is openly shaming litterers and careless dog owners for leaving a mess on the streets, alongside encouraging them to join the 'tidal wave of cleanliness.'
The ad campaign, designed for the good of the public, is a collaboration between DSNY and a creative agency, VMLY&R. The ads are intended to push New Yorkers to help tidy the city they live in. 
"New Yorkers have had enough of litter, enough of filth on our sidewalks, and enough of feeling like there's nothing they can do about it," says Mayor Eric Adams in a press release. 
"This administration has committed to 'Get Stuff Clean,' and our strategy is working, but we need everyone to do their part, and that's what this campaign is all about."
The substantial marketing effort is an open-ended invitation that calls out New Yorkers who resort to annoying habits in the public. 

"If you litter, you're garbage"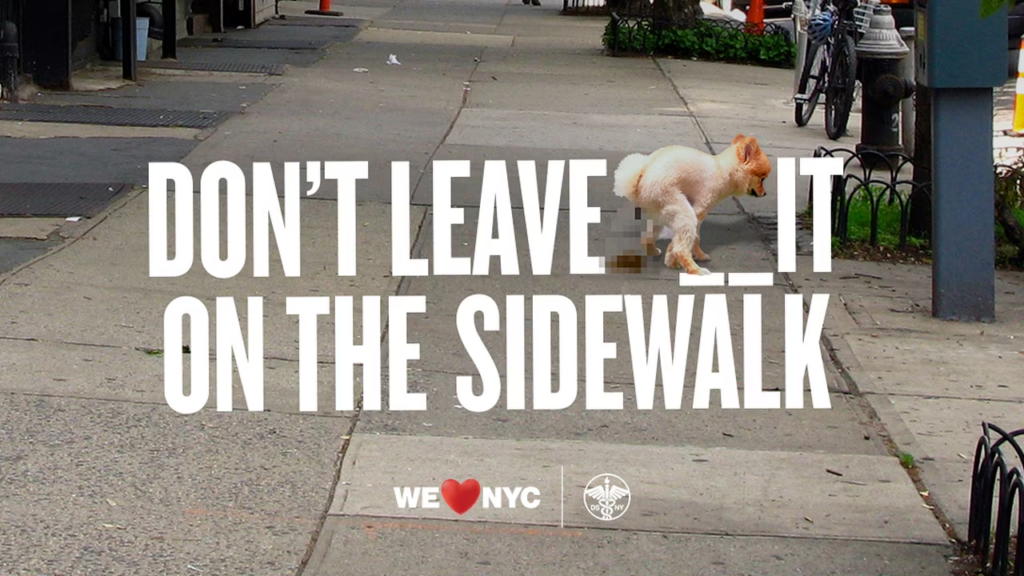 "Don't leave __it on the sidewalk"
Anti-litter campaign tells litterers to stick it
DSNY's commissioner, Jessica Tisch says that the latest campaign is part of a "tidal wave of cleanliness" unleashed on the city.
However, she believes that some [not all] residents are guilty of disposing of their trash or not picking up after their dogs. 
"I don't know why they do it, and frankly, I don't care why they do it," says Tisch. 
"All I know is, if I see someone littering, I'll tell them where to stick it."
The city actually has a dirty history of dumping.
New York was known for being infamously and disgustingly dirty in the past.  According to a 2013 article in Collectors Weekly, New York had a Department of Street Cleaning but it was not made effective until 1895. 
This department would later go on to be renamed the Department of Sanitation in the year 1929. 
Some photographs taken for Harper's Weekly also demonstrate the 'before and after' images of street corners in 1893 and 1895 respectively, and the pictures show a filthy New York city with unbothered people standing knee-deep in the muck. 
Although the hygiene levels of New York City have progressed since the 1890s, the litter and poo problems still needed serious governance. As a measure, the DSNY team imposed new rules which put the onus on the residents, but also reduced the 'waiting' time for trash to be collected from the streets.
Hence, the reason for choosing a brash and bold messaging tone as "it speaks to New Yorkers in the language that we all speak," says Tisch. 
"We know that the vast majority of New Yorkers do their part. They don't litter on the street, they don't leave dog poop on the street," she adds.
"But for that small percentage who do – we want to shame them."
The sanitation ad campaign will appear on bus shelters and LinkNYC kiosks in all five boroughs through the end of April.
Check out some of 2023's best marketing gimmicks for this April Fool's Day.