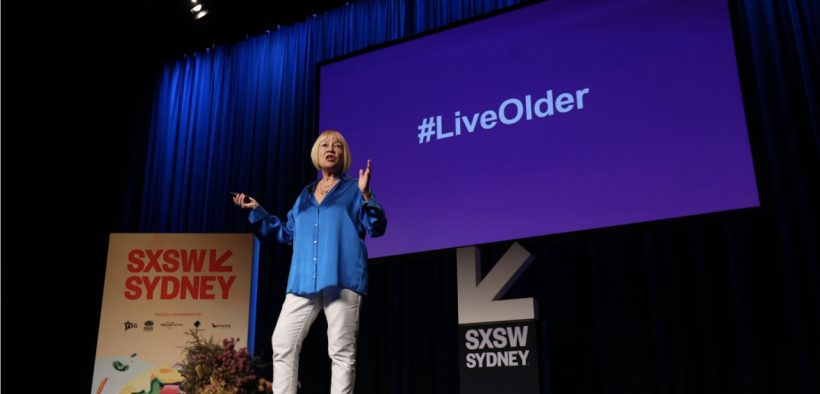 The quintessential display of creativity for 2023, SXSW Sydney was a week full of standout events. Claire Dunton from Luminary picks out the best of the best.
When a week-long event offers 400 sessions and 700 speakers, you expect to have some beliefs challenged, ideas planted and a new mix of leaders to follow. At Luminary, we were eager to cover as much of the itinerary as possible, so as to share what we learned with one another, and our team back at the office. 
Here are some of the highlights of SXSW Sydney, according to our developers, producers, designers and sales and marketing teams in attendance.
Exploring the 'non-obvious' with Rohit Bhargava
Rohit Bhargava is an entrepreneur, futurist and author of nine books related to trend forecasting. He has built a career out of exploring the non-obvious and finding trends and inspirations from the places that are often overlooked. Bhargava generously shared his process of 'non-obvious' discovery with the packed audience, showing piles of articles across various online and print publications, the latter torn straight from magazines or newspapers that he would read by the stack. 
When Bhargava identifies similar threads and trends, he groups these articles and then seeks to understand the link between the trend and the demographic it relates to. He reasoned that while this approach looked easy, very few professionals actually step out of their own niche and algorithm to consume a broader range of media and content.
A statement that Bhargava kept returning to was, "The people who understand people always win."
Simple in theory, but how do marketers, business owners and professionals in general set about understanding people and being in a position to notice those 'non-obvious' patterns? 
Bhargava said that it starts with acknowledging that we tend to have tunnel vision and stick within the areas that are comfortable, instead of taking a chance and experiencing something new for the sake of curiosity and exploration. He challenged the audience to commit to listening to a podcast, reading a journal article, case study, blog or watching a video about a topic that they know nothing about, especially if they are not the intended audience. As an outsider looking in, professionals will gain insights as to how a demographic communicates and what ideas and topics resonate with this audience. 
You can find Bhargava's blog and resources here.
Taking action and embracing a more realistic future of work with Dominic Price 
Before SXSW, the Luminary team was no stranger to Dominic Price, a futurist and 'team doctor' at Atlassian. With a number of Atlassian products firmly entrenched in our workflow, we were expecting some similarly practical advice on what modern work looks like in the future. Price set the stage by asking the audience what the cost of trying is, and what planting seeds today for the future costs. He also challenged the audience to change how they perceived adaptation at the office, suggesting there is more impact to be made in being part of that change rather than resisting it. Adaptation is scary because it is not a process. 
Price believes that businesses should be working towards context over content, evolution over transformation and flow over silos.
One activity that really resonated with our team was the '5L' exercise. Price does this activity every nine weeks to reorder his focus and better gauge what is allowing him to be his most productive, and what is an anchor. By asking yourself the '5L' questions, it should be clear what your actions are going forward. Ask:
What have I loved?

What have I longed for? 

What have I loathed? 

What have I learnt? 

What did I laugh at? 
Atlassian's team playbook can be found here which covers how to do this activity with a group.
Challenging the status quo at SXSW with Cindy Gallop
Cindy Gallop perfectly exemplifies confidence and curiosity, which has brought her an interesting career as an advertising consultant, founding organisations IfWeRanTheWorld and MakeLoveNotPorn. Her interest is in reshaping aspirational culture, as she believes advertising has a large role in perpetuating traditional and outdated standards. So much imagery and advertorial content is designed for the male lens, despite women constantly being shown to be the purchaser in relationships. Gallop explores how this is happening and what the impacts are, from positioning women as caregivers, not showing all ages, and right through to gender roles in porn. She believes that we, the marketers, have the power to reshape aspirational culture and open up different ideals and life paths. 
Gallop says that a comment she continues to see when she puts out her interviews and content is that women wish they had role models more aligned with their ideas when they were growing up, as choosing to not marry or be a parent can make some people feel they are on the fringe of society.
As advertisers and brands begin to explore new media and social norms, it is our responsibility to respond to these ideas, letting brands and society know that we are ready for real representations and honest accounts of the society we live in. It's also an opportunity to build new audiences whose beliefs are being overlooked through meaningful communications and setting a new aspirational culture.
Claire Dunton is a marketing content creator at Luminary. Cover image attributed to Brendon Thorne and Getty Images for SXSW Sydney.