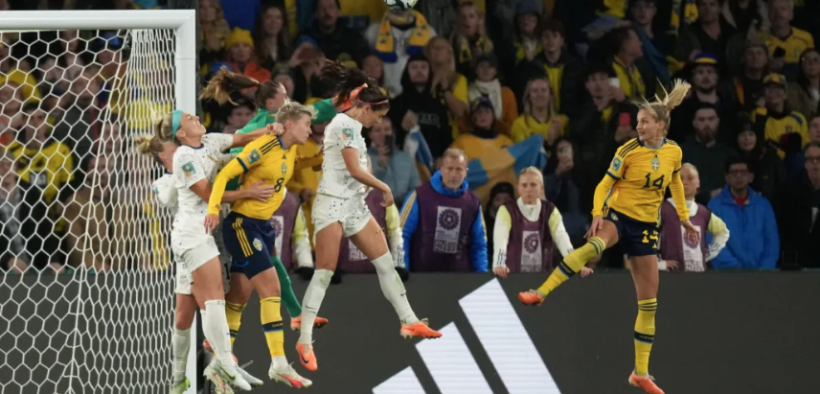 A staggering 64 percent of Australians tuned in to witness the Matildas play the Women's World Cup semi-final. This remarkable event wasn't confined to Australia's borders; its significance resonated on a global scale. Viewership rivalled the Sydney Olympics and Matildas jerseys outselling the 2019 edition by an incredible 13 to 1 ratio. It ended up in lessons for brands and marketers.
Shared macro-moments like these provide marketers with a massive opportunity to look at society and culture at large. 'How did we get here?' 'Who are we now?' And – perhaps most importantly for brands and marketers – 'Where are we heading?'
The true power of cultural analysis lies in its ability to decode patterns and anticipate future developments. We call this cultural foresight. 
Foresight is a superpower for brands: instead of just keeping pace with the moment, foresight gives marketers the opportunity to anticipate it. A better understanding of the past and present means a better chance of planning for the future – something, as marketers, we can all agree is invaluable.
An opportunity and lessons for brands and marketers
For marketers and brands, the Matildas' phenomenon presents a unique opportunity to understand the cultural landscape. Cultural analysis of moments like this one can help decode, anticipate and understand patterns and deepen relationships with customers like never before.
But how exactly do we start? Let's use the Matildas as a case study, and ask ourselves the three fundamental questions that underpin a cultural analysis framework: 
How does 'x' impact individuals? (From identity and self-expression to the core of our being)

How does 'x' influence our relationships? (From personal connections to work dynamics, communities, and beyond)

How does 'x' shape our systems? (From institutions and technologies to the environment that surrounds us)
Similar to STEEP methodology, this framework untangles cultural shifts and their implications. For brands and marketers, it can function as a simple way of looking at major moments in the news or popular culture, and decoding the implications for their brand now, and into the future.
Confused how this would look in practice? Let's continue with the Matildas as an example.
How does the 'Matildas Phenomenon' impact individuals? 
Representation goes beyond rhetoric. Recent research found that two-thirds of Culturally and Linguistically Diverse (CALD) migrants don't feel Australians recognise them as Australians. Kerr, Fowler, Simon, and Williams who all are second and third-generation migrants, are instant Aussie legends, deepening that sense of belonging communities are searching for. The LGBTQIA+ community is also proudly represented and celebrated in the team. As a nation, we celebrated the Matildas and acknowledged their diverse identities. 
Ask yourself: 
What will be the enduring impact of this representation on individual Australians?

How will this impact my product, messaging or brand?

Do I anticipate any new opportunities for my brand?
How does the 'Matildas Phenomenon' impact our relationships? 
The 2019 Women's FIFA World Cup ignited discussions about gender discrimination globally. There's work to be done: Australian women earn 13.3 percent less than their male counterparts on average. The change in perceiving women's roles rippled into workplaces, leading to a $200 million government investment in women's sports. With women's safety under scrutiny within parliament walls, this shift stretches beyond sports. We're hearing more and more voices demanding fairness. 
The Matildas phenomenon also asks us to pause and think deeply about our relationship to communities. Healthy communities are rooted in grassroots sports, and they serve as the breeding ground for professional leagues. The demographics in stadiums during this World Cup were a refreshing twist. Families took centre stage, their focus on camaraderie trumping competition. Affordable tickets opened the gates for more Australians to be part of the action with lessened financial hurdles. The more inclusive environment for sport hasn't gone unnoticed – the Australian government is now in talks to prioritise major events for free-to-air TV, proving that unity is not just beneficial but also financially sound.
Ask yourself:
What will be the enduring impact on equal pay and gender dynamics in the workplace?

What will be the enduring impact on families and community of this inclusive sporting environment? 

How will these impact my product, messaging or brand?

Do I anticipate any new opportunities for my brand?
How does the Matildas Phenomenon impact our systems? 
In recent times, National unity has been a challenge, especially during the pandemic. But the Matildas gave Australia a chance to feel collective pride. This went beyond sport; it was about a shared moment that transcended divisions. The Matildas brand, valued at $40-45 million before the tournament, is set to skyrocket to $175-200 million in the next three years. Can a team shape a nation's identity? You bet – just watch the kids outside kicking a ball around. We witnessed a palpable sense of common unity and national pride watching the Matildas on our screens.
Ask yourself: 
What will be the enduring impact on Australia's collective identity now we have a team that has united the country?

How will this impact my product, messaging or brand?

Do I anticipate any new opportunities for my brand?
Just the beginning
What we've showcased here is merely an introduction to cultural analysis and foresight – examining specific cultural moments and tracking how they arise, their immediate impact, and their potential influence on various aspects of culture and society, and how marketers need to view this influence in relation to their own brands. 
The Matildas' triumph stands as a testament to the power of shared moments to shape and unite a nation. By using cultural analysis to understand a phenomenon like the Matildas, you ask questions that are focused on the culture around the person. We are easily blinded by the consumer, we forget to take a step back and think about the individual, the relationships surrounding them and the systems they live within. Cultural analysis can be used to develop marketing strategies that anticipate new trends and opportunities to position your brand, understand the needs and wants of your target audience, build closer relationships with your customers and gain a deeper understanding of the world around you to cut through in culture.
Laura Mulcahy is the director of cultural strategy TRA.