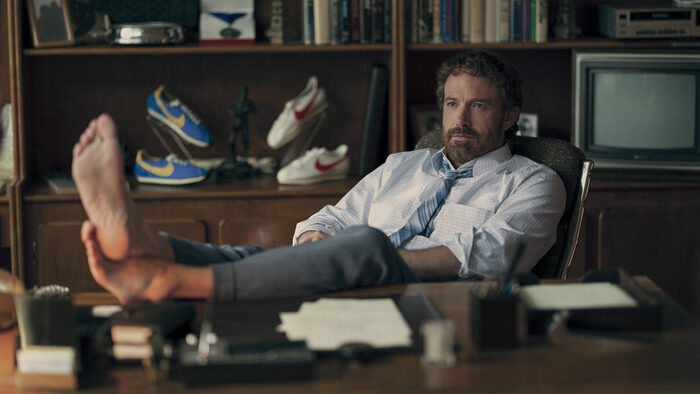 Ben Affleck's Air is a dream come true for Nike.
The story of Nike's 1984 pursuit of then-rookie Michael Jordan makes for an entertaining watch, but more significantly it reveals what events have emerged from a complicated corporate history into a mythologising of values that the brand can continue dining out on forever.
The dramatising of Nike's greatest story plays upon the selective memories of consumers, enshrining one victory into basketball legend while casting off once prominent failings of a similar era.
Air is all around Jordan
To celebrate a moment of corporate history, normally a brand would need to pay up big time, but Nike were not actively involved in the production of Air.
Such is the star of Michael Jordan that Hollywood's interest in this story was organic. 
Fresh from his time as a college champion, Jordan surveys his sponsorship options to find Converse and Adidas each better funded and more established in the basketball world than Nike.
Matt Damon stars as Sonny Vaccaro, spearhead of the Nike efforts to sign Jordan to his first shoe deal, among a plethora of A-list talent including Viola Davis and Affleck himself, but one face conspicuously missing is that of the basketball superstar himself.
Affleck says Jordan is too well known to be depicted by an actor. Would his inclusion then have detracted from the triumph of the film's real protagonist?
Some may recall more than the glory
Air makes one reference to the… less popular side of Nike's history, when Jason Bateman's Rob Strasser briefly questions the morality of his employment, though it feels minor within this Nike exhibit.
In the 1990s the company faced a series of controversies surrounding its overseas manufacturing practices, following the moving of its production to Vietnam, Indonesia and China after prices in Taiwan and Korea rose. Some subcontractors were found to be earning only 14 cents per hour USD.
Facing widespread protests, Nike introduced improved minimum standards to prevent exploitation within its global production chain, and targeted transparent reviews of its partnership factories.
The company's history is undoubtedly chequered, though its modern perception is not what it was then. 
In recent years the sportswear giant has become a prominent social campaigner, famously choosing in 2018 to stand beside NFL outcast Colin Kaepernick despite the backlash that it instantly ignited.
Seeking star power
Though confined to a short window of 1984, Air shows an inflection point in the rise from underdog to fan favourite and industry leader.
There seems to be unquestioning positivity in how an audience engages with this kind of story, room for all the Nike history squeezed into the film, the basis of the company's slogan, logo and name all, but little left for forgotten failings.
Nike has since been synonymous with big names and partnerships. By making itself inseparable from the stories of these interesting characters the company is granted a limited, protected retelling of its own past each time these figures are reexamined. 
After all, the idea for this screenplay emerged from a 2020 Jordan documentary.
These successes arise frequently for Nike, as it continues to unearth new talent.
Nike will be remembered as critical to the more contemporary triumph of Eliud Kipchoge breaking the two-hour marathon barrier in 2019, with who knows what to come next.