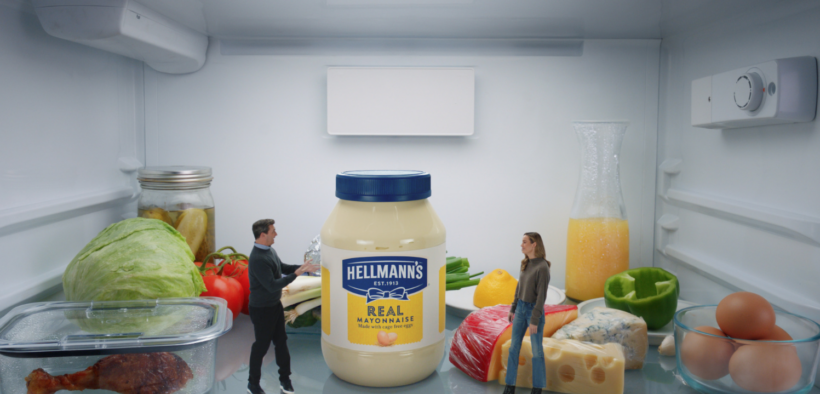 Jon Hamm may be a snack, but in the latest Hellman ad, the Hollywood heartthrob becomes a sandwich alongside Brie Larson. 
The Super Bowl spot opens with the two celebrities in a fridge. Hamm looks bemused and asks Larson why they're even in a fridge. 
"Brie, any idea why we are in a fridge?" the Mad Men alum asks the actress. 
"Well, I'm Brie. And you're… Hamm" explains Larson.
The two stand between a bottle of Hellman's mayonnaise and then it clicks with Hamm – the two can be made into any snack with the addition of the popular spread. 
Suddenly, the fridge door is opened by Hollywood's resident ex-boyfriend Pete Davidson, who nods at the delicious duo.
"That's right, I really am everywhere," says the comedian. "And I'm going to eat you."
Davidson then devours a ham and cheese sandwich, before telling Hamm and Brie they "really are delicious."
Jon Hamm joining the Hellman's family
This is the brand's third Super Bowl that highlights that Hellman's can be used with anything to make it delicious, in an effort to combat food wastage. Last year's spot also featured Saturday Night Live star Davidson.
"Being part of last year's ad with Hellman's really opened my eyes around food waste," says Davidson. "When they asked me to open up my fridge and get more people thinking about leftovers, I thought it was pretty cool."
Hamm also spoke about his first foray into the condiment world. "Filming this spot alongside Larson and Davidson with a giant jar of Hellman's was a real honour for me," says Hamm. 
"I didn't really think about how much food waste happens at home until this commercial. Davidson may have found me delicious, but I found myself inspired to make a difference to food waste," he continues.
Check out the spot below.