Case study: how to effectively use experiential marketing to create awareness
This case study demonstrates how travel brand Luxury Escapes partnered with Graffiti to create a unique marketing experience that successfully generated brand awareness and ultimately resulted in over 19 stories being published and over 5.5 million in reach. 
Campaign: Holiday Lab
Client: Luxury Escapes
Agency: Graffiti Experiential and Character + Distinction with Luxury Escapes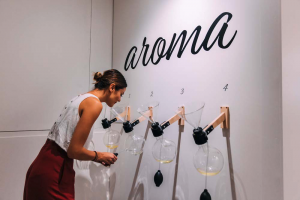 Background
Travel company Luxury Escapes is one of Australia's fastest growing ecommerce businesses, with over 500,000 people choosing to take a Luxury Escape in 2019 and more than 3 million subscribers globally. 
In 2017 Luxury Escapes trialled physical retail with their first pop up store concept in Melbourne's CBD. While this pop up proved to be a success in community engagement and retail, the brand was keen to elevate the pop-up retail concept for another iteration, this time aligning the concept to a unique PR spin in order to ensure maximum exposure and return to drive awareness and retail sales.
Objective
Awareness was the top objective for this initiative. Specifically, the pop-up needed to generate at least 10 quality PR pieces in national or Melbourne based publications and attract significant footfall for its area. 
To deliver an exceptional brand experience in a concept that would meet both PR and retail objectives, Luxury Escapes needed to capture the expertise and category leadership that the brand is known for. The goal was to create an engaging and unique pop up where people could experience the Luxury Escapes brand personality, interact with the team and purchase their next travel experience. Revenue from the pop-up was a further, but not primary, objective for the brand.
The pop-up also needed to be timed to align with the broader consumer behaviour of booking holidays and interest in travel. With January and February being some of the highest selling months for the travel brand and with the majority of schools and businesses fully back to 'reality' by February, a pop-up that would offer Australians some respite from 'post-holiday blues' would naturally align to media and customer outcomes while providing the basis for a creative way to bring the pop-up concept to life. 
Strategy
Luxury Escapes have a strong following in Australia across a broad age and demographic range. As the team is based in Melbourne the decision was made to host the pop-up in a high foot traffic area within the CBD, attracting both existing Luxury Escapes customers and a broader audience. The concept needed to be relevant for Luxury Escapes subscribers to make the trip in (that is, it needed to be more than just a store) as well as engaging and interesting enough to attract the general public to take a look. 
Using the perspective of 'post-holiday blues' to anchor the thinking behind the pop-up, the space needed to provide a solution or positive experience beyond merely selling a holiday. The experiences of the space needed to bring Luxury Escapes' highly curated approach to holidays to life, in an engaging and interactive setting.
While the opportunity to activate in a physical setting was appealing to Luxury Escapes, as an ecommerce business, the physical retail setting needed to tie in to the broader digital business and play a role in the overall brand experience for Luxury Escapes.
Knowing they had more than 2 million Australian consumers to potentially reach, Luxury Escapes didn't want the physical retail experience to limit engagement, so the pop-up concept needed to offer a way to engage consumers beyond those that could make it down to the space.
Execution
Luxury Escapes thoughtfully curate, test, and design every holiday package, and with the 'Holiday Lab' concept, they brought this unique brand offering to life in an immersive physical setting.
The Holiday Lab is an interactive pop-up experience designed to prescribe Australians with a luxurious and soothing remedy for their post-holiday blues. Designed with input from certified psychiatrist and founder of Mindful in May, Dr. Elise Bialylew, the Holiday Lab offered consumers to experience a series of questions and participate in a range of interactive, sensory experiences in order to help evaluate and identify their ideal Luxury Escape. As each consumer interacts with the experiences and experiments, a custom digital tool tracks their responses to form a deeper knowledge of their behaviour, desires, and ultimately develop a tailored travel profile and package to suit their needs. 
Each sensory experience – sound, taste, touch, colour, aroma and nature – offer a unique action for the visitor to take, for example, custom diffusers release different scents when pressed. The digital tool was also made available online, so the broader Luxury Escapes audience could try it out.
The Holiday Lab was conceptualised and developed by Luxury Escapes with experiential agency Graffiti, with communications agency Character + Distinction handling the media plan and relations. 
The Holiday Lab was launched in late February to follow the return to work and school for most Australians in January and early February. Ahead of the Holiday Lab launch, a media famil was held for a small group of key lifestyle media, with the journalists experiencing their own 24 hour Luxury Escape to Melbourne, including a visit to the Holiday Lab. 
The Lab was launched with a VIP industry event, followed by media and influencer visits throughout. The Lab also hosted partner events for Luxury Escapes, with tourism bodies and aligned brands. 
Results
As a result of the media famil, over eleven stories were produced on the Holiday Lab concept in publications including the Herald Sun, The Australian, Harper's BAZAAR, Vogue Living, InStyle Australia and Broadsheet. Overall, the Holiday Lab concept generated more than 19 stories and over 5.5 million in reach. 
The Holiday Lab attracted strong foot traffic with over 1,000 visitors to the pop-up across the 10 days, and more than 4,800 total surveys completed using the in-store and online digital tool. Building on the value of the reach and awareness generated by the pop-up, more than 2,600 business leads were generated through the pop-up, creating many opportunities for Luxury Escapes to engage with their customers on their personalised holiday offers. With guests spending an average of 10 minutes in the Holiday Lab, the concept was a strong example of how brands can create immersive and engaging retail experiences, particularly for online brands looking to connect with their audience in a brick and mortar environment.