28.4 – why this is the most important stat for iPhone 6 sales in Australia
Even before we have any solid information about the iPhone 6, the figure 28.4 is a signal of the size of the opportunity for Apple's new iPhone.
In the chart below, note the models in the number one, two and three positions.
By this time tomorrow, 28.4% of Australian smartphone owners will own an iPhone that's two, three or four generations old.
Whichever rule of thumb you use for how often people typically upgrade their phone, if it's a number between two and three, that's a lot of potential upgraders.
How many people actually upgrade will, of course, depend on what Apple releases overnight.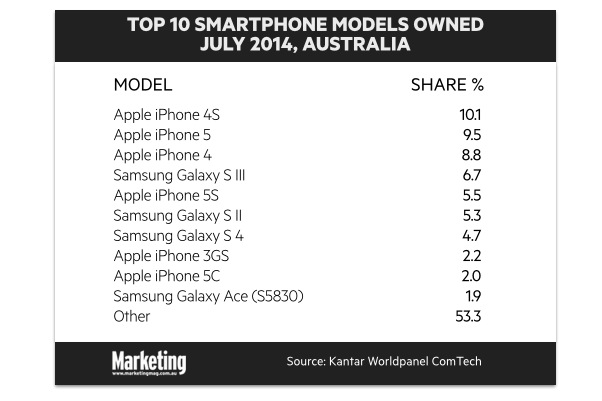 Data from Roy Morgan Research shows the total number of smartphone intenders decreased for the first time in FY13-14 – the result of fewer first-time mobile intenders in the market as well as fewer upgraders.
But why fewer upgraders? Tim Martin, general manager, media at Roy Morgan Research, says one possibility is that Apple's last handset releases, the iPhone 5S and 5C, didn't impress current owners enough for them to upgrade, resulting in the slight decline in intention year on year.
"No doubt, Apple is hoping the iPhone 6 will rectify this situation, possessing enough new and improved features to inspire current iPhone owners into upgrading and possibly even convincing owners of other handsets to think about switching," Martin says.
So the bright side of a flop last year translates to even more potential upgraders tomorrow.
If the iPhone 6 delivers.
If it doesn't, will users wait out another year? Or will two lacklustre releases in a row equal a pattern, resulting in the loss of some customers for good?
BY THE WAY: Our sister masthead Macworld Australia will be staying up all night to cover the launch of the iPhone 6 for Australia, so check them out if you're as mad as they are. (They even have a handy platform for selling your used Apple products if you're upgrading soon.)