MG Motor Australia's test drive campaign for the Red Cross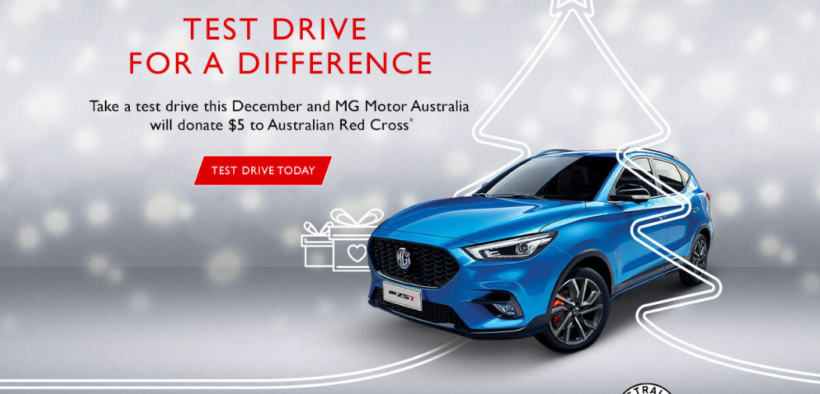 The iconic MG motor car brand has announced its renewed support of Australian Red Cross in a campaign that invites people to test drive its cars in return for a donation to the charity.
MG Motor Australia has launched MG Motor's Test Drive for a Difference campaign, which will see any test drives of an MG vehicle taken during December 2020 raising $5, with the brand donating the amount (capped at $10,000) to directly support at-risk, homeless young people. Interested drivers can take the test drive at any one of the automotive company's 66 dealerships across Australia.
The current line-up of MG branded vehicles available in Australia includes the SUV MG HS, the ZST and the light hatchback MG3 Auto.
This will be the third year of the campaign, with the original Test Drive for a Difference commencing in 2018. The goal remains the same – to raise funds to help people who are experiencing homelessness or loneliness during the holiday season. This year funds raised will be directed towards the Australian Red Cross Night Café, a Brisbane outfit providing support to young homeless or at-risk people in the local community.
Spreading the love
This year New Zealand also joins the campaign, with Test Drive for a Difference now running at the 13 MG dealerships across the Tasman, with the New Zealand Red Cross the beneficiary. Up to $6000 has been pledged to support local programs in the country.
"We welcome MG Motor's continued support of our efforts nationwide," says Felicity Calvert, head of partnerships, Australian Red Cross, "specifically helping us provide support to vulnerable young people. Having access to food and somewhere safe to sleep at night is often taken for granted. The funds raised by MG Motor's community will help us provide support services to people facing hardship by creating effective pathways to gain knowledge and skills, access resources and services, and improve social connection and participation."
Australians and New Zealanders are able to book a test drive through the MG Motor website, or by contacting their local dealership to get into an MG vehicle.