Adobe's new (very funny) ad makes child's play of Marketing Cloud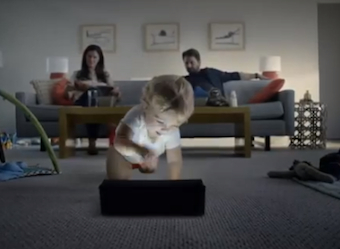 Adobe have released a new commercial which is being shown throughout Advertising Week in New York. The commercial is for Adobe Marketing Cloud services and as well as being flogged to death at Advertising Week (it is being reported it will be shown at up to 64 seminars across the conference) it will also be airing on CNBC and Bloomberg, which will be Adobe's first TV buy in almost 10 years.
The commercial shows how using Adobe's Marketing Cloud technology could prevent misinterpretation of analytical data and features a hard cover Encyclopaedia manufacturer (a product that seems fairly redundant in today's technology age) increasing the production of its product after a perceived spike in sales.
The sales spike however is all thanks to a baby who has gotten hold of his parents iPad and is accidentally pushing the 'buy now' button repeatedly on the screen.
The punch line at the end of the ad warns not to make too many assumptions where your marketing is concerned.
Adobe might be making a name for themselves as far as great commercial go, with this new spot following on from its commercial, that featured during the Super Bowl last year. The spot saw a horse and chimp discuss how ludicrous spending millions of dollars on a 30 second spot during the Super Bowl commercial was.
Adobe's digital marketing business, which now represents 25% of the company's total revenues.
Adobe's latest TVC:
http://youtu.be/TZXUq7Pln3g
Last year's Adobe Super Bowl commercial:
http://youtu.be/CwMYpH_oA-g