Behind the scenes of the Intel-Flume tablet band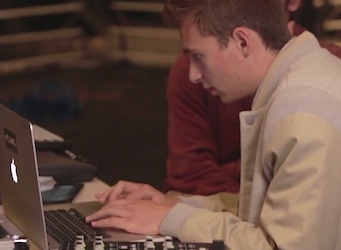 Intel has collaborated with Australian musician and producer Flume to create a band of tablet computers.
To highlight the creative power of Intel processors inside tablets, the company collaborated with Flume, otherwise known as Harley Streten, on a project called 'Intelligent Sounds', an experiment that sees 'Felix the robot conductor', his tablet-powered band members and their instruments come to life to perform a new Flume track created specifically.
Each 'member' of Intelligent Sounds' tablet band was programmed with synthesised notes and triggered to play through on cue, while robot arms were pre-programmed to hit the required notes in time with the final song.
Jayant Murty, Intel's director of brand strategy and integrated marketing for the Asia Pacific, said the short film is designed to be an entertaining light and sound experience and also to encourage viewers to consider the technology which is at the heart of their tablets. "It is commonplace to have tablets play your music but it's rare to have tablets create them. Intel technology transforms these devices from tools for consuming content into innovative instruments that allow for incredible self-expression."
Flume says the 'Intelligent Sounds' project was one of the more challenging and enjoyable of his career to date. "I love the challenge of writing music for a particular project and a defined theme. I find working within these boundaries inspires, rather than limits, creativity."
At just 21 years of age, Streten has achieved critical acclaim and mass appeal. He wrote much of his platinum-selling self-titled debut album while back-packing around Europe.
The project was a collaborative effort between Intel, Flume, The Monkeys and production company Finch.