AFL sponsorship is highly rewarding for NAB
The NAB's sponsorship of the AFL's pre-season competition is delivering real benefits to the bank, with customers who watch the competition more likely to be satisfied with the bank, according to a recent study by Roy Morgan Research.
In December last year 80.2% of NAB account holders indicated that they were 'very' or 'fairly' satisfied with the bank during the six months to December 2015.
However satisfaction rose by 2% among account holders who said they 'occasionally' watch games during the NAB Challenge competition.
This figure rose by an incredible 8% to 88% satisfaction among those who indicated that they 'almost always' watch matches.
It was also found that that those more invested in the pre-season competition were more likely to have a higher degree of satisfaction with the bank.
Customers who almost always watch the NAB Challenge are almost a third more likely that the average customer to be 'very' satisfied with the bank and occasional viewers of the competition are 20% more likely to be 'fairly' satisfied.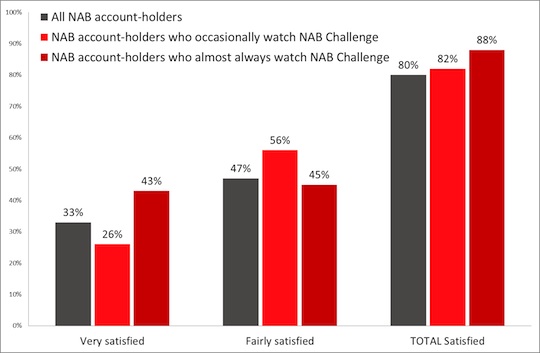 Roy Morgan Research industry communications director Norman Morris says the data clearly demonstrates a direct correlation to the bank's sponsorship of the event and the higher levels of satisfaction towards it by fans of the NAB Challenge.
"This data suggests a real correlation – and not just a demographic correlation – between fans of the AFL pre-season and their positive attitude to its sponsor," he says.
"Almost 1 in 3 Australians who tune in to the AFL pre-season, whether almost always or occasionally, associate NAB with Australian Rules Football overall. Any company that sponsors a popular sporting event is hoping at heart for just an ounce of transference: love the sport, like us a bit,"
"This data highlights how likeability can play a big part in satisfying customers – who are then more loyal, more open to cross-selling, and more likely to recommend to friends and family, delivering long-term benefits," says Morris.
The NAB has sponsored the AFL pre-season competition since 2006.