As the attack ads bite, can Brand ALP win back the public's favour?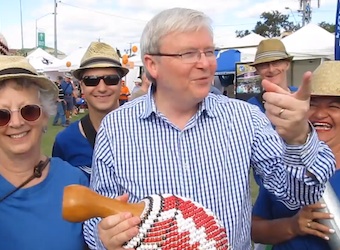 As Australian voters brace themselves for an onslaught of political messages from all sides of politics, the marketing masterminds behind the 'Kevin 07' campaign victory will be right now scrambling revive the party and present a strong, viable image to the Australian voting audience.
It takes a strong leader to turn around the fortunes of any business, but when that business is politics and leadership is a public drama, can even the most savvy communicator keep it together? We will be watching with keen interest to see how master marketer K-Rudd tackles the formidable challenge ahead of him as he seeks to take a party divided to victory in a Federal election.
In what should bolster the team, a snap SMS poll conducted by Roy Morgan Research after last night's leadership ballot showed the ALP enjoying a large swing to 49.5%, up 5% from last weekend's multi-mode poll, narrowly trailing the Coalition (50.5%) on a two-party preferred basis. Morgan concludes that if it were held today the election would be too close to call.
Rudd's communications challenge is that he now enters the arena of what could be one of the most vicious Federal campaigns in memory, if the Liberal Party's attack ad that tore into Labor's leadership instability is anything to go by.
The Liberal party released the spot this week (and even got the ABC to play it in full, more than once), that is complete with scary supers, music, wonky camera angles and film treatments, as chopped quote after chopped quote echoes with random, foreboding words.
Watch the spot below and tell us what kind of election campaigning you're hoping to see over the next couple of months, and, also, what kind of campaigning you're actually expecting to see.