Lucinda Barlow: building blocks and digital wizardry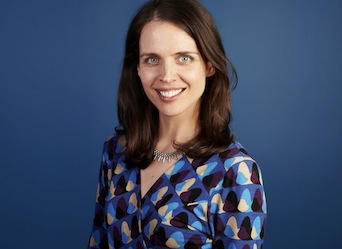 In the lead up to the announcement of the inaugural IAB Australia Digital Marketer of the Year Award on 11 July, we'll be running profiles of the six finalists. Today we talk with Lucinda Barlow, who has led Google's marketing here to global fame.
The Award seeks to identify the digital marketer who has shown bravery in their digital marketing endeavours through their vision and use of channels and technologies, and has proven tangible, sustained results for their business.
Lucinda Barlow, head of marketing for Google Australia and New Zealand was nominated for her consistent willingness to support brave, breakthrough campaigns that combined cutting-edge technology, interactivity and brand partnerships.
'Build with Chrome' was a bold interactive project that demonstrated the power of Google's Chrome browser by combining Google Maps and Lego to form the world's largest Lego set.
'Frontrow' was a partnership with the Sydney Opera House to allow viewers from around the world to experience Vivid Sydney events by pulling off an unprecedented technological feat. Online viewers were able to watch the live-stream from the front row of four major events, control the camera angle, shoot stills, add filters and share their experience. This was built into a YouTube gadget that attracted hundreds of thousands of users in a ten hour period.
Barlow's campaigns have also used print, radio, TV and out-of-home media when needed, and has integrated digital and direct to high-value business customers and partners.
Marketing: Many people would think about Google and assume that with the engineering might within the organisation you'd be expected to produce amazing, sophisticated digital campaigns. But what's the environment really like for the marketing team?
Lucinda Barlow: Chaotic, fast paced and fabulous! We are constantly learning so need to work in deep collaboration with internal and external partners.
As a relatively small Google outpost, is there a drive within yourself or your team to stand out and be seen globally?
Absolutely! We position Australia and New Zealand as a testbed where we can experiment, execute brilliantly and scale globally. The most recent and exciting experiment for us was 'Project Loon', balloon-powered Internet access, which we piloted and launched in Canterbury, New Zealand. It is the most exciting and inspiring project I have ever worked on.
You're a marketer with an engineering education – what do you think that allows you to bring to a marketing role? And do you think marketers in general should be educated or have experience in fields outside of marketing/communications?
Marketing is an incredible profession for curious, passionate people from all kinds of backgrounds. My team includes history and French majors, accountants, entrepreneurs, artists as well as traditional marketers.
My engineering background has given me a love of technology, an understanding of how engineers think and an appreciation of big problems to be solved. We work closely with engineers and we work differently. Marketers tend to focus on the goal and engineers on how to get there. It's a good match!
The 'Build With Chrome' campaign was seen by the judges as particularly interesting due to it being representative of a willingness to work with other brands (in this case Lego). It seems the strategy in general is to position Google as the enabler of other business' success. Is that accurate?
We're much better when we focus on our technology strengths and let others speak for us. Google provides platforms and tools which make users' lives easier and help make brands, content and creators succeed.
I particularly love 'Build with Chrome' as it showed the capabilities of Chrome and the web as a collaborative canvas all through the nostalgic delight of building together a world in Lego bricks.
You had to search quite widely to find a partner with the technical capabilities to pull off Build With Chrome. What drives you to not give up when every production company you approach says they can't do it?
A healthy disregard for the impossible is a good thing, but with tight timelines, you also need to be practical. We look for developer partners who start small, create prototypes and involve us upfront in the progress and the constraints.
'Frontrow' was a hugely complex undertaking, and one of the projects the judges cited for its bravery – how do you minimise the risk in technically challenging projects like that while not watering down the ambition and desire to push boundaries? And, what's the secret to juggling multiple partners?
'Frontrow' was possible through the sheer will and drive of everyone involved to make it happen despite ridiculously tight timeframes and complexity. We were all motivated by the innovation behind it, the wow response from users and the example we could show to other brands about what they could do with digital. That momentum is only possible with common goals and extraordinary collaborative partnership such as with Sydney Opera House and Mark Agency.
Although a digital brand, Google doesn't solely stick to digital marketing – what role do 'traditional' channels like print, mail and outdoor play in your marketing mix?
We use whatever works and we like to experiment. We've just launched a new interactive media campaign for Google Play which uses digital outdoor, mobile and online.
What's next for Google Australia's marketing? And for Lucinda Barlow?
Just like all marketers today, Mobile continues to be huge focus. Android is growing strongly in Australia and we're really excited about Google Play and the content available to our users.
Google is always a new adventure and on top of that, I'm very excited to be expecting my third child in October!
Here's to more Moonshots!