Aussies go thread bare to save amid fears of double dip recession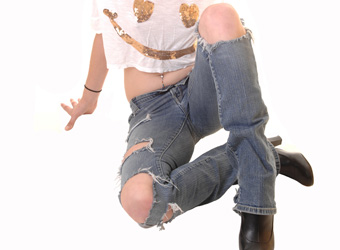 Spending less on new clothes is one of the top three strategies Australians have adopted to save money, according to a study by Nielsen, which adds to the story of consumers changing their spending habits as overseas fears of a GFC aftershock are reflected locally.
The other most common strategy adopted to cut back was a reduction in takeaway meals, closely followed by measures to save on gas and electricity. Conducted globally among 28,000 consumers, the study isolates rising utility costs, job security and the economy as the key drivers of lower spend.
Managing director of Nielsen Pacific, Chris Percy says consumers are preoccupied with factors such as deteriorating economic conditions overseas, the increasing cost of living and banks not passing on interest rate cuts.
"Australians are being hit hard by the increasing cost of living, and a lack of confidence in the marketplace will only serve to further impact discretionary spending as people opt to keep their wallets firmly in their pockets," added Percy.
Sentiment in Australia appears to echo the fears of a double dip recession overseas, with almost two-thirds believing now was a 'bad' or 'not so good' time to buy discretionary items. This is in direct contrast from figures from two years ago, when 60% said now was a 'good time' to buy things.
Nielsen also found that 47% of Australians are putting a portion of their spare cash into savings and 30% allocate surplus funds to pay off debts including credit cards. However, nearly one in five claim to have no spare cash after living expenses are paid.
Compared with other countries around the world, Australia ranked 25 out of the 56 nations surveyed in terms of consumer confidence – just behind New Zealand, Israel and Pakistan.
"Poignantly, this is the first time Australia has dropped below New Zealand in terms of consumer confidence in the past year," Percy adds. "While New Zealand consumer sentiment has remained relatively stagnant in recent times, Australia has experienced a number of fluctuations including a significant drop in confidence in 2012."
Asia-Pacific nations come out on top overall making up seven of the 10 most optimistic countries. Indonesia, India and the Philippines recorded the highest levels of consumer confidence globally.
The European nations of Hungary, Portugal, Italy and Greece took out the bottom four spots.