Toyota retains best 'green' brand crown, Aus brands absent
Toyota, Johnson & Johnson and Honda are the greenest brands in the world, according to Interbrand's 'Best Global Green Brands 2012′ report, while no Australian brands rated among the top 50 for green credentials.
The report, which uses consumer research and environmental practice performance data provided by Deloitte to arrive at its conclusions, found that most industries around the world are taking steps to sustainability and their degree of external reporting, with automotive and technology brands leading the pack.
Global CEO of Interbrand, Jez Frampton says sustainability is now proving to be a strategic and profitable aspect of business and a brand-strengthening asset. "It is crucial that consumers' impressions of a brand are in close alignment with that brand's actual environmental performance. Otherwise, a brand's efforts in this area could serve as an under-utilised asset, or, conversely, suffer due to accusations of 'greenwashing.'"
Toyota maintains the number one spot in the rankings this year. The manufacturer's original Prius model, the primary launch pad for Toyota's green image, has recently been expanded to encompass an entire family of sustainable automobiles, including the company's first plug‐in model.
Seven other automotive brands appear in this year's top 50, with three more ranking in the top 10 – Honda, in third spot, Volkswagen in fourth and BMW in tenth. Ford (15th), Mercedes‐Benz (16th), Hyundai (17th), and Nissan (21th) also performed well. Investment in developing and marketing fuel-efficient and alternative fuel vehicles appears to be paying off for the auto sector, which made gains both in terms of performance and consumer perceptions for their green practices.
Leading technology brands are also spearheading efforts to reduce their environmental impact. Panasonic jumped four spots this year to sixth position on the back of a range of energy management systems, including the conversion of a former factory site in Fujisawa near Tokyo into a 'Sustainable Smart Town'.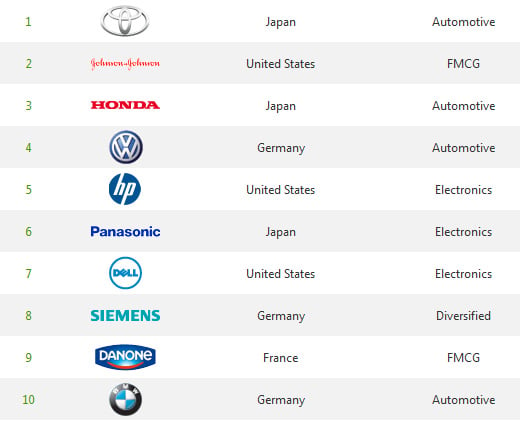 The top risers on this year's list included Danone, Ford, Starbucks, and UPS. FMCG brand Danone, ranked ninth, improved its green credentials by committing to reducing its carbon footprint by 30% by the end of 2012. Ford, in 15th spot, made significant improvement in its environmental performance around both its operations, as well as its approach to transparent engagement and disclosure on its activities and its environmental impact. Starbucks (36th) and UPS (43rd) improved their overall ranking the most in this year's report, both moving up six spots from where they ranked in 2011.
The United States, Germany and Japan emerged as the homes of the most green brands.  This year's list included 22 brands manufactured and managed in the United States, including Johnson & Johnson (2nd), Hewlett‐Packard (5th), Dell (7th), Cisco (11th), and 3M (12th). Japan and Germany each produced seven of the top 50, thanks to their technology and automotive success.