Australia has world's third-highest digital media use, ahead of US and Canada: PQ Media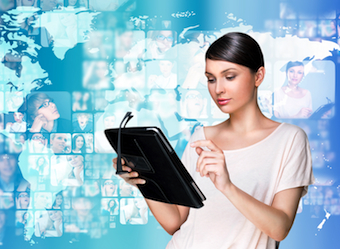 Australia is the third-highest consumer of digital media in the world, with the average person spending 16.48 hours consuming it every week.
The United Kingdom leads the pack at 16.87 average hours per week, followed by South Korea in second position at 16.58 average hours. Australia leads Canada (15.15 hours) and the US (14.92 hours).
PQ Media has released the figures as part of its 'Global Consumer Media Usage & Exposure Forecast 2014-18′. The report also predicts that global use of digital media will grow 12.3% during 2014 to a global average of 6.5 hours per week.
The five heaviest users of digital media have the following characteristics in common:
High penetration rates for broadband internet access,
more than 50% smartphone penetration rates,
growing demand for computer tablets and e-readers,
a population of young men who heavily use console video games,
a range of devices and options to engage with OTT video, and
advanced markets for digital out-of-home (DOOH) networks including indoor and outdoor signage.
Brazil had the fastest growth rate of digital media uptake in 2013, with a 21.1% increase. PQ Media suggests this can be attributed to the government upgrading technology for sporting events including the 2014 FIFA World Cup.
Russia and India had the second- and third-largest increase in digital media use.
PQ Media classifies digital media into the following three categories: 'internet media', 'mobile media' and 'other digital media'.
Of the three types, consumer mobile media experienced the fastest rise in usage in 2013 with a 24% increase globally.
Internet media was the most used digital media type, with consumers spending an average of 2.58 hours using it weekly.
Traditional media usage slightly increased 1.3% in 2013 to 37.99 hours per week, a slight deceleration from 2012.
The study found Generation X used digital media for an average of 7.4 hours globally, more than the global average of other age groups. This figure is skewed by countries such as Brazil, Russia, India and China in which barriers to expensive digital devices are higher for younger people.