Australians say convenience is key for QSRs but most stay loyal to one or two brands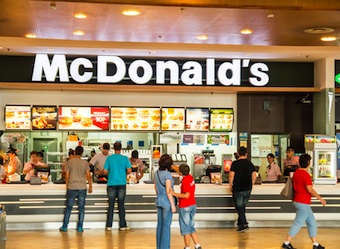 Australians make 51.5 million visits to quick service restaurants (QSR) every month, with 40% of these customers loyal to one to two brands, a report into out-of-home dining says. Also revealed were the top three considerations for choosing one fast food joint over another.
81% of Australians will eat at out at least once a month, with fast food chains accounting for more than half of visits (six in 10 Australians choose them).
The gender split is balanced, with 51% of fast food eaters male and 49% female.
The EMMA 'Out of Home Dining Industry Report' also found that of the 11.5 million Australians who eat at a fast food chain each month, 22% remained loyal to one brand and 19% remained loyal to two brands.
McDonald's topped the list as the most popular brand among Australians, with 42% of fast-food-consuming Australians visiting the 'Golden Arches' in the past four weeks. It was followed by Subway (29%), KFC (23%), Hungry Jack's (16%) and Domino's Pizza (11%).
The study uncovered three key drivers for QSR customers: price and convenience; health; and, taste.
Price and convenience was the most important factor – more than two-thirds of the population choose a QSR on this basis.
The second key driver was health, with a quarter of Australians saying they carefully select a healthy option.
Taste was ranked as a key choice by just 8% of people.
The number of people willing to consider eating at Subway is much higher than those who actually visit the chain, with 52% of fast food consumers considering it, but only 29% purchasing. McDonald's leads on conversion, with 42% considering Macca's and 39% purchasing.
The report also says that fast food customers prefer to eat on the run or at home, with 30.5 million take away visits compared to 21 million dine-in visits per month.
"Perhaps not surprisingly, it is young people, aged between 14 and 29, that are heaviest users of dining out and takeaway options, with 86% saying they eat out at least once a month and 60% choose quick service restaurants, with McDonald's, Subway and KFC topping their choice of brands," says Ipsos MediaCT managing director Simon Wake.
"There is also a clear correlation between eating out and takeaway and income, with higher income earners eating out and buying takeaway more frequently. However, this is not the case with quick service restaurants, which attract all levels of income earners.
"It's students, sales people and labourers who are the heaviest users of quick service restaurants with McDonald's, Subway and KFC topping their list," says Wake.