B2B Big Plays: Atoms, daydreaming marketers and Google Plus?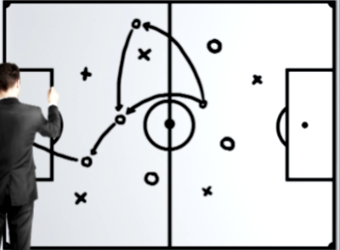 B2B Big Plays features news and events from the planet, and is proudly delivered twice a month by B2B Marketer, Australia's largest B2B marketing group. 
Nomination for the Academy Awards? IBM's 'A boy and his atom'
Global – Cue husky voice-over guy: IBM scientists have moved atoms by using their scanning tunnelling microscope to make a movie, 'A boy and his atom'. It is the World's Smallest Stop-motion Film, and goes to show that nanophysicists know how to have a good time…
The plot is a bit thin, basically like Snakes on a Plane, the title says it all. But for a piece of content, it has showcased that there are some really smart people lurking in the halls at IBM (when was the last time you manipulated one of smallest particles of any element in the universe?)
What the film lacks in story, it makes up for in geek cool. This breakthrough could transform computing by providing the world with devices that have access to unprecedented levels of data storage.
What a brilliant way of generating quality content. I hope they do a remake of Old Yeller, this time without the rabies.
Marketers daydream… yeah, so what?
UK – For some reason (there's a prize if you know why) Travelodge put out a report that says nine in ten marketers say regular daydreaming helps to improve performance and motivation in the workplace.
Now it gets embarrassing because I have no idea why I'm putting this out there (or why I read the stupid report), but they also claim that marketers daydream seven times during their working day with each daydream lasting on average more than five minutes.
If your boss clips you on the back of the head to wake you up, fire back with the conclusive proof that 90% of marketing professionals employ daydreaming every day to 'help them improve their performance and make them more motivated in the workplace'. So is that what George Costanza was doing under the desk in that Seinfeld episode?
Got an opinion about HTML5 ad guidelines?
New York – If you want to have a crack at shaping the guidelines for HTML5 (I can't wait!), then the Interactive Advertising Bureau has released the HTML5 for Digital Advertising 1.0 standard for public comment.
The guidelines are designed (apart from getting free publicity) as a resource for digital advertising designers and creative executives who are developing online ads using HTML5.
If you have ever wrestled with such issues as file and ad unit size, in-banner video advertising and animation, efficient ad creative packaging and ad server compatibility, then here's your chance to speak up. The guidelines are available in all their glory at here 
A ray of sunshine? Tech marketing budgets up 3.7%
US – IDC's 2013 'Tech Marketing Barometer' was released earlier this month and the big number we all like is that budgets are on the way up for tech companies. Based on an online survey of 64 senior marketing executives at large technology companies (with average revenue $4.6 billion).
Pause for stating the bleeding obvious: "For B2B companies, lead management is the major process for marketing," says Kathleen Schaub, VP/CMO advisory service at IDC.
OK, perhaps Kathleen could have given some of the more juicy insights such as: cloud computing software companies show the strongest growth this year (up more than 15%), and overall revenue will grow by an estimated 4.8% at tech companies this year.
Is that a pulse we can feel over there?
What are the positives for Google Plus?
Global – Hands up who uses Google Plus? Hum, thought so. Apparently there are 343 million users, with 27% of them considered active. But what's the utilisation for being involved?
I have been beset by people gushing over the ability to set up private hangouts for meetings, bring up docs and edit them, show a video and collaborate, then record the whole thing and incorporate it into CRM. And it's immediately available on YouTube.
Would love to get feedback on Google Plus from B2B marketers.
Is it useful?
Is it any good?
Or just don't bother?
Let us know in the comments, on Twitter, or in the LinkedIn group…
B2B Big Plays is proudly delivered twice a month by B2B Marketer, Australia's largest B2B marketing group.