B2B Big Plays: Shocking gingerbread men, the scourge of adspeak and Rolls on the waves
B2B news and events from the planet! Proudly delivered twice a month, by B2B Marketer, Australia's largest B2B marketing group.
What it takes to shock a gingerbread man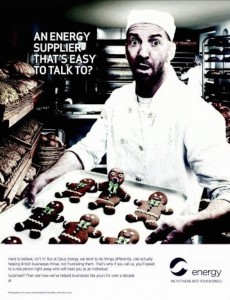 UK – Here's a nice one from McCann Birmingham for Opus Energy. It's of course based on the fact that energy companies are not easy to talk to. News of one that is has clearly got the attention of a baker and his tasty victim.
I like the punchy copy, which is engaging and rather clever. Tying in the concept of being easy to talk to, the challenge is given to see for yourself, how you will be treated like an individual.
AdSpeak – when good communicators go bad
Global – I refer of course to the scourge that is AdSpeak. Convoluted and meaningless drivel used by agencies and marketing managers alike to explain either:
Why a creative piece is jolly good,
why an agency is delighted to gain a new account, or
why a marketing manager thinks a campaign will work.
Here's an example from Jon Marchant of McCann Birmingham about the advert above (from the Media Release): "The company was established in 2002 and exclusively supplies energy to businesses, so it was crucial the campaign conveyed the business experience of the brand, while showcasing its customer service focus with statements that may be considered surprising."
Amazing how this came from the same place that wrote ever so crisply for the client. And Jon is far from the only one. Would love to see more oomph put behind the media releases, they all start sounding the same after awhile.
Rolls-Royce takes you to the deep end
Global – Betcha didn't know that RR also made big boats? They do, and you can read all about them on utstories.rolls-royce.com.
A really powerful concept, 'The ship that launched a thousand stories' presents a heap of opportunities for engagement by letting customers and end-users tell their story. And with customers telling their story, you get sold on the features and benefits.
Great use of video content provides some lessons on making a website purpose built from the ground up, rather than creating a brochure with links.
The challenges for a tech brand using glorious statistics (the fun bit is at the end)
Global – Text100 Influence Index: Paving the Path to Advocacy presents their findings about what it takes to influence IT decision makers. While 55% of the time, it is the head of IT involved in making the final decision, 42% require CEO or MD sign off and 22% require board of directors sign off. Nothing new there.
However, before any decision has been made to buy, 34% of decision makers use a search engine to get more information on a product or brand; 43% look at information on the supplier's website; 27% read online endorsements, reviews or recommendations; and 28% used email newsletters as an information source.
The research also revealed that at every stage of the purchasing process, from awareness through to taking action, decision-makers care about cost more than any other factor. (Thank you GF-bloody-C.)
Here's the promised fun bit: only 53% of decision makers worldwide would first turn to an existing supplier when faced with a business challenge.
Whatcha gonna do about that?
"There are three types of lies: lies, damn lies and statistics" – Mark Twain
Love B2B? Join us for The B2B Lab at 11am on Tuesday 27 May 2014. Tune in to the live webcast here.