ME Bank unveils more modern brand identity and drops 'bank' from name
ME Bank is dropping the word 'Bank' from its name and has launched a modernised visual brand identity.
The smiley-face remains but the brand's blue and green colour scheme has been replaced by black and white, with contemporary lines. The new logo will work in conjunction with clean and colourful imagery.
The bank says that the official name change – to simply 'ME' – reflects how the majority of customers were instinctively referencing the bank: 'ME' pronounced like the pronoun 'me'.
The brand's new tagline reflects this wordplay too – 'Make the most of ME'.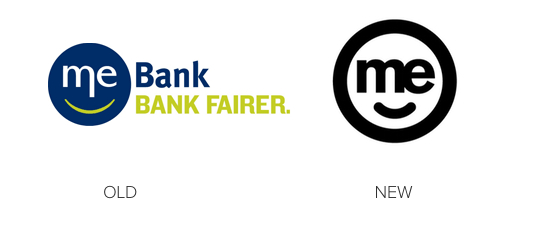 ME's brand and digital director, Ingrid Purcell says the brand refresh has carried through to the bank's design of products and services for customers: "Our belief is that banking has been made too complicated and complex – customers want to get ahead and want a bank that helps them achieve this simply and easily in a digital world − that's our aim."
ME will roll out a suite of new products and customer experiences gradually, beginning with launch of a low-rate credit card called 'Frank' (pictured). Frank is described by the bank as  "the epitome of simplicity… no surprises and boasts a low interest rate on purchases and cash advances."

The bank has also introduced a basic home loan to its collection of home loans and a refreshed mobile app.
"This isn't just a tagline," says Purcell, "it's an extensive inside-out rebrand building on our 21-year proud heritage of helping people get ahead, reinforced by modernised internal values, customer promises and a $90 million dollar investment in technology."
"With both our brand refresh and technology transformation close to completion, ME is well positioned to stand out as a true challenger in the digital age. This will see us roll out more compelling products and experiences more quickly in the future."
"While customers are only just starting to absorb the new brand reveal, initial customer reaction is in line with research and testing with the majority stating that it reflects a modern, digitally-savvy and secure bank," she said.
Last August, ME opened up access to its discounted home loan rates to all Australians and removed the requirement to be a member of a union or industry super fund.
Behind the scenes the brand will change over in full over the next few months.