In B2B, ROI means 'Risk of Ignoring' Google
Jaci Burns shares new findings into B2B purchase decisions, from the Business Marketing Association's annual conference in Chicago.
In 2014, Google and Millward Brown Digital continued their longitudinal study of business-to-business buyer behaviour.
Last conducted in 2012, the study combined a survey of around 3,000 B2B buyers, with analysis of 13-months of Millward Brown data.
In March 2015, a report of the findings was released, B2B Path to Purchase Study, 2014, which provides important insight into how B2B purchase decisions are being made, and who is making and influencing those decisions.
Jim Lecinski, Google's American vice president, sales and service, presented the findings at the Business Marketing Association's annual conference in Chicago today. His four key points:
1. B2B buyers, just like their consumer selves, are online
89% of B2B buyers use the internet at some stage of the buying process – for example, to prequalify their consideration set. Consistent with every other contemporary study, this research is increasingly being conducted on mobile devices – the number of B2B mobile searches has tripled since 2012 as buyers turn to smartphones and tablets to compare products, features, prices and sellers. Today, 42% of all B2B-related searches are performed on mobile placing further pressure on marketers to deliver a mobile-first experience.
2. B2B buyers are getting younger – fast
Since 2012, there has been a 70% increase in the involvement of millennials (18-to-34-year-old 'digital natives') in B2B purchases, such that this generation (also known as Gen Y) represents almost half (46%) all B2B buyers (see figure below). While final decision-making authority continues to rest with the C-suite (64%), 81% of non C-suite have significant impact on the purchase decision.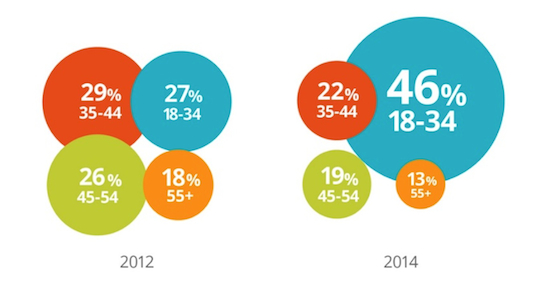 3. The engagement window has widened
On average, B2B buyers conduct 12 internet (Google) searches prior to engaging directly with any specific brand. Mostly, these searches start with a generic query, indicating prospects approach B2B procurement from a product or service perspective, not a brand focus. As they negotiate the process, B2B buyers also search for fewer brands as they tend to formulate a strong idea of what they're looking for and who they want to talk to. For B2B marketers each of these 12 occasions represents a moment of truth for B2B marketers. If you're not present on one or more of those 12 occasions, but your competitor is, you're at a competitive disadvantage. You're unlikely to even be considered.
4. Online video is becoming an important reference point during the procurement process
This is up by 52% since 2012. Nearly half of the respondent B2B buyers viewed 30 minutes or more of B2B-related video and one in five watched over an hour of content.
Google asks:
Are you considering the 18-to-34 audience as your primary target when building B2B marketing campaigns?
are you providing a mobile-rich experience?
when searching, what questions are B2B buyers asking and are you visible on the sites where they are spending their time? and
have you embraced video?