BrandZ 2015 rankings: Apple sees huge jump in brand value, but not because of Apple Watch
Apple has overtaken Google to reclaim the title of 'world's most valuable brand' according to WPP's 2015 BrandZ study.
The 'Top 100 Most Valuable Global Brands' report, released today by WPP and Millward Brown, sees Apple increase its brand value to $247 billion, a huge rise of 67% year on year.
Google was knocked down to second, but also grew, achieving a 9% value increase to reach $173.7 billion.
Microsoft, now worth $115.5 billion, is the new number three, rising one position with value growth of 28%.
The study's authors say that although Apple Watch has proved extremely popular, it is the success of the iPhone 6 that has been the main driver of Apple's brand value growth.
Doreen Wang, Millward Brown's global head of BrandZ, said in a statement: "Apple continues to 'own' its category by innovating and leading the curve in a way that generates real benefits for consumers. It meets their rational and emotional needs, and makes life easier in a fun and relevant way. Apple is clear on what it stands for, and never stops refreshing its message to sustain the difference that makes it so desirable."
The total brand value of the BrandZ top 100 now stands at $3.3 trillion, a 14% increase on 2014 and a 126% growth over the 10 years since the ranking was first launched.
David Roth, WPP says brand value has risen substantially despite a disruptive decade. "This is a pivotal moment for brand builders," Roth said in a statement. "We're at the threshold of a new normal, and a changing consumer. The past 10 years of valuing brands proves that investing in creating strong, valuable brands delivers superior returns to shareholders."
There are five Australian brands in the Top 100 versus four last year. This year Telstra has entered the top 100 for the first time at number 82 with a brand value of US$12.7 billion.
It joins:
Commonwealth Bank at number 48 (down four from 44) with a value of US$20.6 billion,
ANZ at number 59 (down eight from 51) with a value of US $17.7 billion,
Westpac at number 84 (up one from number 85) with a value of US $12.4 billion, and
Woolworths at number 87 (down five from number 82) with a value of US $11.8 billion.
BrandZ Top 10 Most Valuable Global Brands 2015
Carried out by WPP's marketing and brand consultancy Millward Brown, BrandZ claims to be the only ranking in the world that calculates brand value by using the views of potential and current buyers of a brand, alongside financial data.
10-year trends
Now in its 10th year, analysis of BrandZ over the decade reveals that high value brands provide faster bottom-line growth and shareholder value. In the last 10 years, a measurement of the strongest brands from the top 100 as a 'stock portfolio' shows their share price has risen over three times more than the MSCI World Index and almost two-thirds more than the S&P500.
Also evident is the trend of Europe's brand powerhouses stagnating as Chinese brands grow and US brands make a comeback. The number of Chinese brands continues to grow with 14 brands in the Top 100, up from one in 2006, and an increase of 1004% in value. The value of US brands grew by 137% in the last 10 years (up 15% in the last year) compared to just 31% in Europe (down -9.3% in the last year). There are now just 24 brands from Europe in the ranking (down from 35 in 2006). This represents a shift from West to East – most of the brands that have been 'pushed out' of the Top 100 by China were from Europe.
Infographic
Shows some global trends and top growing brands and categories. Click image to enlarge.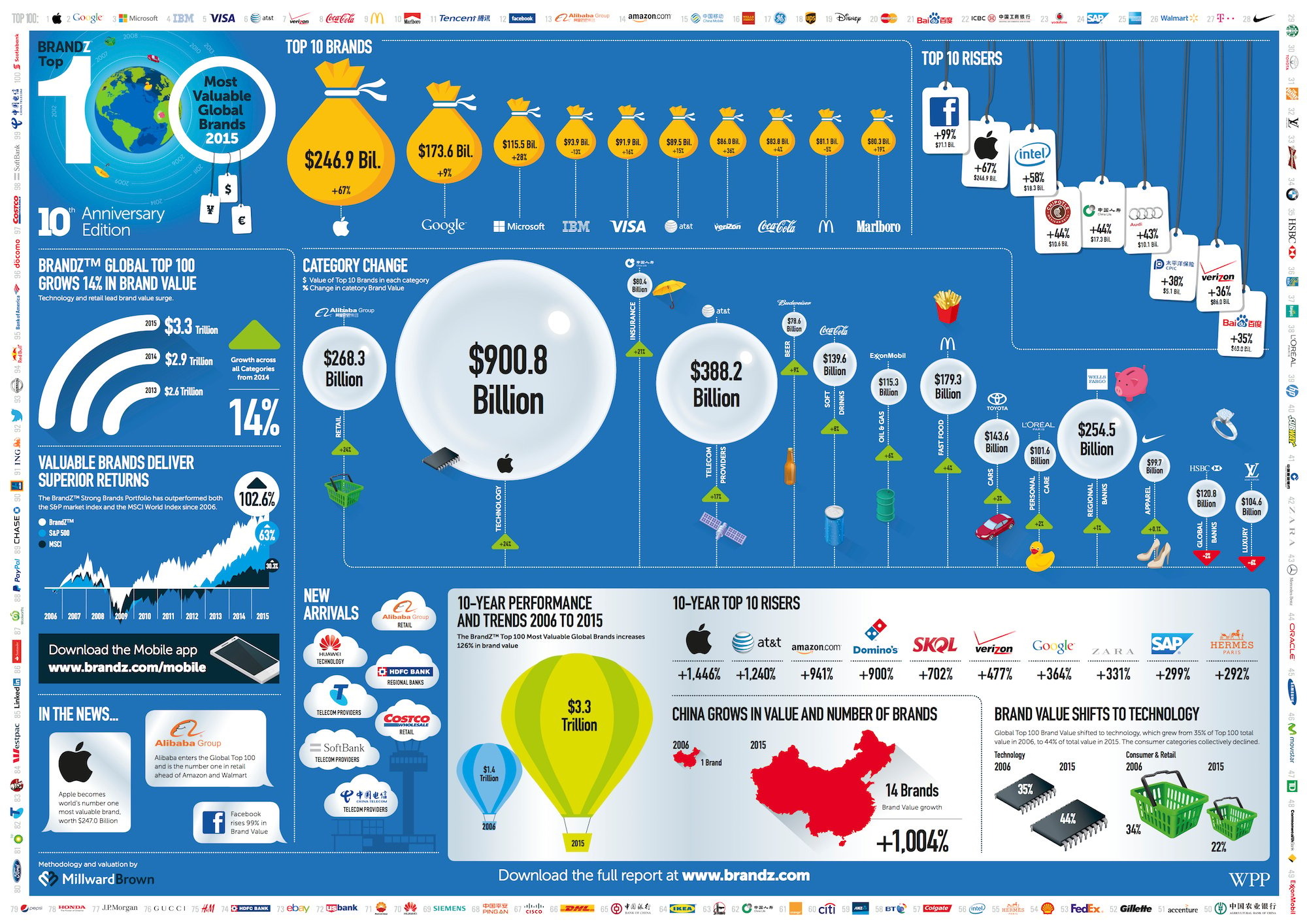 BrandZ methodology
BrandZ combines measures of brand equity based on interviews with more than three million consumers globally about thousands of global consumer-facing and business-to-business brands with a rigorous analysis of the financial and business performance of each company. For this it uses data from Bloomberg and Kantar Retail. This allows it to separate the value that brand plays in driving business and shareholder value.