Looking forward to a whole lot of bad content
Jaci Burns reports from the Business Marketing Association's national B2B conference, BMA15 in Chicago, with a content marketing reality check from Content Marketing Institute founder Joe Pulizzi.
Content Marketing. We're all doing it – we must be; it's the fastest growing aspect of marketing.
We all (90%) think we're doing it pretty well. (In fact, only 38% of us are).
Yet, we all intend to spend more on it next year.
"Get ready for a whole lot of bad content", announces Joe Pulizzi, founder of the Content Marketing Institute and the guy who claims to have coined the term 'content marketing' back in 2001.
Pulizzi's keynote address on day two of this week's Business Marketing Association's annual conference was built around the CMI's 2015 research piece, 'Content Marketing Budgets, Benchmarks and Trends', and particularly what distinguishes effective content marketers from their less effective peers.
The research piece addresses questions such as:
What distinguishes effective content marketers from their less effective peers?
what tactics are content marketers using most often? Which do they find to be the most effective?
what social media distribution channels are marketers using? And do they consider them to be effective?
what percentage of the marketing budget is spent on content marketing? and
what is the biggest challenge most marketers are facing?
"Start by documenting your content marketing strategy and then commit to it", he counsels. "Do that and you'll be eight times more effective at content marketing."
"Then put all the other metrics aside and focus on building an audience. Aspire to being the best provider for your content niche in your industry. Build an audience and you'll generate sales, reduce costs, create loyalty, and retain customers. But be patient: developing long-term assets takes time. If your cycle is less than 12 months, go do something else."
This graphic from the CMI shows 92% of B2B marketers are creating social media content other than blogs. eNewsletters (83%), articles on their website (81%) and blogs (80%) are the next most-commonly used content marketing tactics.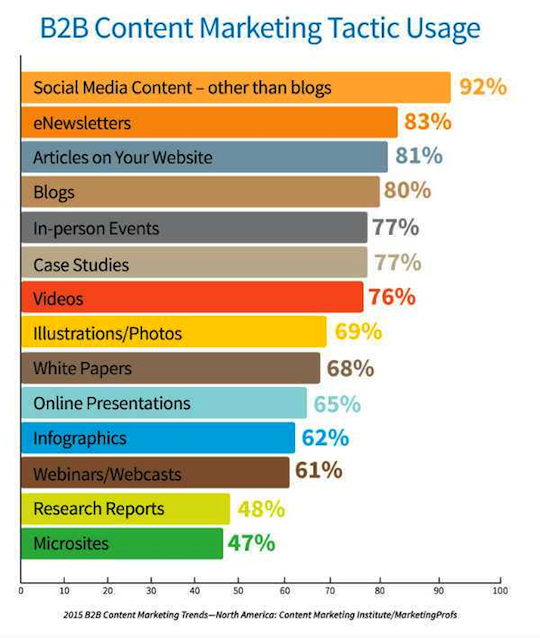 Here's the video of Joe Pulizzi's session at BMA15.