'Best Job in the World' reincarnated: 6 jobs nationwide in $4m push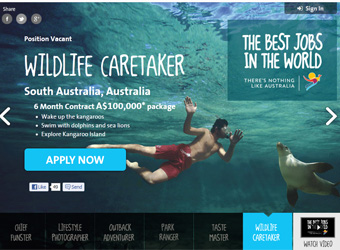 Tourism Queensland's 'Best Job in the World' campaign is back, this time offering six positions around the country in a $4 million push from Tourism Australia (TA).
The campaign, which employed Englishman Ben Southall as an island caretaker on the Great Barrier Reef in 2009, has been reincarnated to promote Australia's Working Holiday Maker (WHM) program.
TA has teamed with State and Territory tourism partners to target the international youth market, which often travels for longer and funds trips by taking on work while in the country. The segment, made up of 18 to 30 year olds, contributed nearly $12 billion in tourism spending and a quarter of all Australia's international visitors last year.
Six 'Best Jobs in the World', each offering a six-month salary package of $100,000, have been advertised for, including a 'chief funster' in New South Wales, an 'outback adventurer' in the Northern Territory, a 'park ranger' in Queensland, a 'wildlife caretaker' in South Australia, a 'lifestyle photographer' in Melbourne and a 'taste master' in Western Australia.
Launching the campaign in Cairns today, Tourism Australia managing director Andrew McEvoy said the competition would encourage more young people from around the world to come to Australia to both holiday and work, helping to fill many unfilled tourism jobs across Australia.
"We've taken one of the most successful tourism campaigns in recent times and made it bigger and better by coming up with a competition which represents the very best of our country – our breath-taking landscapes and scenery, our unique nature and wildlife, great food and wine and, of course, our huge sense of fun," McEvoy said.
"The youth market contributes more than a quarter of all Australia's international arrivals. These are visitors who tend to stay longer, disperse widely and often come back again, with their families, later in their lives. For many young people, Australia's working holiday visa programs provide the economic means to fund travel plans, and this is at the heart of our new campaign."
"Despite recent challenges, such as the high Australian dollar and the global financial crisis affecting some of Australia's traditional Western markets, the youth traveller segment remains an important part of Australia's visitor mix."
The youth segment contributes $12 billion annually in total tourism spending and delivers nearly 1.6 million (26%) of Australia's international arrivals. In 2012, WHMs contributed $2.5 billion to the Australian economy and spent on average over $13,000 during their stay.
"This is a wonderful chance to reinforce and amplify our 'There's Nothing Like Australia' message that Australia is a wonderful, world class destination full of unique experiences, adventure and great places to explore," McEvoy added.
Industry partners for the campaign include Virgin Australia, STA Travel, Citibank, DELL, IKEA, Sony Music and Monster.com, who have created an online 'jobs board', advertising temporary jobs within the Australian tourism industry aimed at travellers visiting the country under Australia's WHM program.
The focus will be on international markets eligible for Australian working holiday visas – the UK, US, Ireland, Canada, Germany, France, Italy, Sweden, Hong Kong, Taiwan, South Korea and Japan.