Brands give something besides flowers this Valentine's Day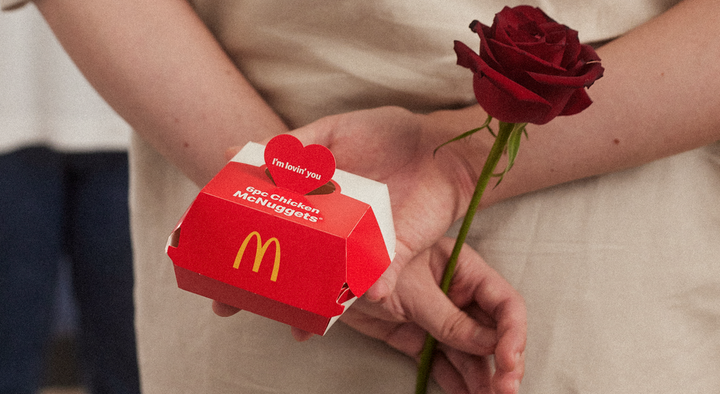 It's the day of love. Valentine's Day has long been cynically marked as a Hallmark Holiday. However, some brands know how to find fun and clever ways to engage with consumers without leaving anyone out.
McDonald's McNuggets
roses are red, violets are blue, I ordered you 6 Chicken McNuggets, please be my boo

— McDonald's Australia (@maccas) February 13, 2022
McDonald's knows its audience, and its product. For Valentine's Day, McDonalds wants people to get its classic six piece McNugget item. The popular menu item has replaced the traditional flowers and chocolates this Valentine's Day. It's the year to get chicken nuggets instead. The fast food chain has released a brand new box to mark the holiday. Lovers around the country can purchase a Valentine's Day themed box with a fold up love heart and a play on Maccas' tagline "I'm lovin it" changed to "I'm lovin you."
The box is available all week at McDonald's until stocks last. If the saying "the way to a man's heart is through his stomach" is real, then this is the V-Day gift to give.
Koala mattress hits the apps
Would you swipe right on a great night's sleep? Koala thinks so. What started as a mattress company, Koala has spread its services and is now making fold out couches. Digital ads for the new products are a little different to normal furniture ads. The couches are being described like Tinder bios. The descriptions include "only here for a few nights!" and the couch's dimensions with the commonly seen "because apparently that matters" line from dating apps. 
To celebrate love, Koala is also offering 25 percent off its best selling products for Valentine's Day, for both singles and those feeling the love.
Domino's delivers proposals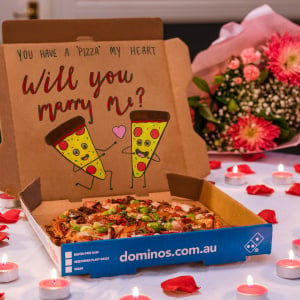 Pizza is a meal fit for sharing. And this Valentine's Day Domino's is making the most romantic of gestures with its delivery. Proposing. That's right, the pizza chain will write a customised hand written message inside the pizza box for those wanting to pop the question. 
It might seem a little cheesy to some, but the popular chain knows that chocolates say love, and pizza says forever.