Buy a minute of pre-recorded silence to support ANZAC Appeal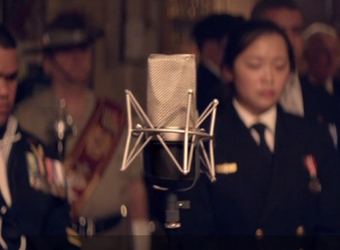 An unorthodox campaign launched by the ANZAC Appeal is encouraging people to cut through the noise of everyday life by buying a minute of silence to reflect on the efforts of Australia's war veterans.
The 'Minute of Silence' fundraising campaign, spearheaded by creative agency DDB, allows people to buy a pre-recorded minute of silence on their phone, which they would be sharing with 80 currently serving and former Australian Defence Force members and their families. Anyone who buys the minute of silence will also receive a link to a website with a personal thank you from veterans.
"At first glance you think we are asking people to buy nothing, but as you delve deeper into the campaign you realise that you get a whole lot. Memories, stories, learnings, sorrows, reflections and resolve. It's amazing what a minute of silence is really made up of," said creative director Darren Spiller.
The campaign reflects the desire to adapt the ANZAC Appeal's fundraising campaigns to the new media landscape. The accompanying website allows viewers to learn more about the veterans' stories through various videos.
Damien Thomlinson, Afghanistan veteran and spokesperson for the ANZAC Appeal said in an email statement that the new campaign would enhance the work that the RSL's traditional fundraisers already do. "The Minute of Silence will allow Australians to support the cause directly from their mobile phone or landline. Minute of Silence is about showing the link from the past to the present," said Thomlinson.
The group hopes to further highlight the work of the RSL, which helps service men and women with anything from financial assistance to education and medical needs.
The campaign website (minuteofsilence.com.au) has the phone numbers for each state. Calls cost $2.26, SMS cost $2.25 per message pair.