NBN connects old friends in 'Silent Reunion' campaign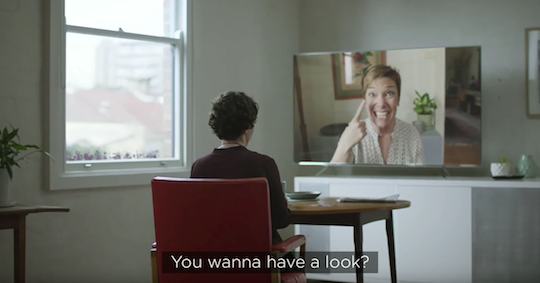 BWM Dentsu's new campaign for the NBN tugs at the heart strings as it celebrates the connectivity it offers Australians.
BWM Dentsu's new film ad supporting the rollout of the NBN illustrates the emotional power of fast connectivity in an emotional new campaign. 'Silent Reunion' tells the story of two friends, both hearing impaired, using sign language to re-connect over the NBN via a video chat.
"The NBN network is for all Australians, Part of our commitment to delivering this campaign was to ensure we showcase how the network is impacting many of our under-represented communities," says Steve Hannan, national manager, media and advertising, NBN.
BWM Dentsu and NBN consulted with Deaf Services Queensland to ensure the narrative was a true representation of the relationship and conversation between the two women.
"Through this collaboration with Deaf Services Queensland, we were able to learn first-hand of the bond between the two women. Being able to bring this to life in a genuine and real way was immensely rewarding," says Hannan.
–
Related: TAC's new 'Graham' campaign focuses on human physical vulnerability and is a collaboration between a trauma surgeon, a crash investigator, and a sculptor »
–
The film was developed by Finch, directed by Nic Finlayson, and produced by Julianne Shelton.
"The campaign dramatises the quality of video calling by demonstrating its use between two friends reconnecting via video call. The narrative is a great articulation of the flexibility that technology brings, and has allowed us to show another side of what being connected to the NBN network looks like," says Asheen Naidu, writer and executive creative director, BWM Dentsu.
The campaign, which launched on 31 July is featuring on TV, online video, out-of-home and digital in selected markets.
Here's the 60 second 'Silent Reunion' video
* * * * *
For all the latest in insight and opinion on Australian brands and campaigns, purchase a subscription to Marketing
* * * * *