Canada's latest tourism campaign stars Prime Minister Justin Trudeau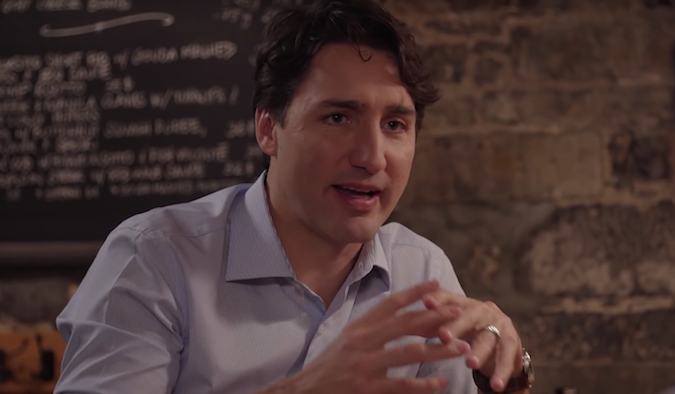 Canadian Prime Minister Justin Trudeau stars in the country's latest tourism campaign.
Canada's national tourism marketing organisation Destination Canada, has begun a three year campaign to boost tourism using the nation's Prime Minister Justin Trudeau.
The 'Connecting America' campaign includes ads and social media content for the US market and showcases Canadian destinations.
Trudeau appears in the first video of the campaign, which launched this month.
–
Related: Marketing thinks it's probably a good thing that Australia's Prime Minister doesn't appear in Tourism Australia's latest campaign »
–
Over steak and seafood at a Montreal restaurant, Trudeau talks with Top Chef winner Kristen Kish about Canada's culinary scene, the country's fine wine industry, and rural and urban vacation experiences.
'It's not cold, it's cool' is the tagline for the campaign aimed at the estimated 30 million Americans actively considering Canada when they're looking at online travel choices.
"The perceptions are that we're cold all the time, that we're far away, and that we lack urban sophistication and culture," says David Goldstein, president and CEO of Destination Canada.
"Previous campaigns have done a great job at extolling the natural virtues of Canada, but the average American consumer has a hard time of figuring out what to do and where to go."
"We boldly approached the Prime Minister's office to see if he would help us. He was more than happy to pitch in, and we couldn't help ask for a better spokesperson," said Goldstein of Trudeau, whose looks, charm and progressive political viewpoints have earned him many fans around the world.
From 2015 to 2015, the number of US visitors to Canada increased by 8%, to 12.5 million accounting for 70% of international arrivals, but the Destination Canada wants to get back to its pre 9/11 levels of 14.5 million US visitors.
Here's Trudeau meeting Kish at a Montreal restaurant:
---
* * * * *
* * * * *