Royal Flying Doctor Service sells patches of sky to supporters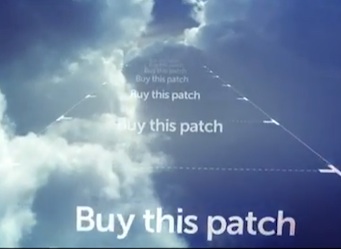 The Royal Flying Doctor Service (RFDS) has launched the biggest fundraising campaign in its history, offering supporters the chance to buy a patch of sky along RFDS flight paths.
'Buy the Sky' (buythesky.com.au), created by Havas Worldwide and sister PR agency, Red Agency, offers supporters the chance to have their own personal RFDS experience by 'purchasing' and naming a patch of sky along selected flight paths across Australia.
A patch of air will set you back $50 in the form of a tax deductible donation. Buyers can choose a one-kilometre-square patch of virtual sky with specific coordinates and will be issued with a digital certificate showing their name in the sky and the patch coordinates.
Once a patch has been bought, supporters can opt in to receive weekly flight updates via social media or email once Royal Flying Doctor Service planes have passed through their patch of sky.
The campaign is designed to help secure the long-term future of the Service which relies on fundraising and donations from the community to purchase and medically-equip its aircraft and to support its 24/7 emergency aeromedical and essential healthcare services.
Steve Coll, executive creative director of Havas Worldwide Sydney says, "Endless blue sky is such an iconic part of this country. For the first time, people can buy their very own patch of Australian sky in support of the RFDS. It's an incredibly simple idea, with many layers. For example, anyone who buys the sky can receive regular Facebook updates from specially installed flight-tracking technology on RFDS planes. So you'll know when an RFDS plane has flown through your patch, and discover the vital missions your donation has enabled."
"It's been a huge team effort from the entire agency to get such a truly integrated idea up and running, but I'd like to give particular recognition to the relentless efforts of Chris Johnson, the creative lead, and our tenacious account and digital teams, supported by our supreme PR agency," he says.
James Wright, managing director, Red Agency adds, "As the only driver to the campaign our media relations and social strategy is crucial in the success of what is the RFDS's biggest and most ambitious fundraising campaign to date. We have designed our campaign to inspire people to buy a patch of sky and share that experience with their friends.
"The RFDS is an integral part of Australia's rural history. Now more than ever they are needed to rescue those who would otherwise be stranded in remote locations, hours away from health services. As we are reminded with catastrophes such as the wild bush fires in New South Wales, we can't predict when we will need help or where we will be when we need it. This campaign embodies the spirit of supporting the RFDS, and is an easy way for those who value the service to be part of it in a unique way."
http://youtu.be/EWAqC6EWtWk