CarsGuide's cheeky billboard placement takes swipe at market leader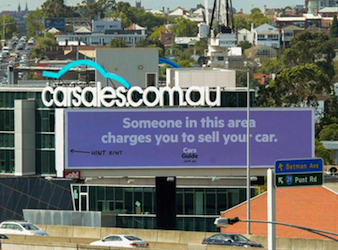 CarsGuide has erected a cheeky billboard outside the head office of its main competitor Carsales, drawing attention to the company's differing services.
Positioning itself as a challenger brand, CarsGuide has written on the billboard: "Someone in this area charges you to sell your car", with an arrow pointing to the Carsales building next to the note "hint hint".
The outdoor campaign with agencies BWM and MediaCom aims to highlight CarsGuide's new business model, which the company launched last year.
The new model seeks to disrupt the online car trade market by being more transparent and fair to car dealers and buyers.
Under a new pay-per view model, dealers only pay for actual views on their listings (65 cents each, capped at $39.95). Previously, dealers paid for each lead.
Individuals listing their car for sale don't pay a fee for a 'standard ad' but can opt to pay for additional promotion.
The new CarsGuide also includes map-based search, which allows buyers to search for cars within a specified distance. This was not available previously.
CarsGuide CEO Lauren Williams says the company is distancing itself from the "old model" in which dealers bought consumers' details.
"As part of our positioning as a challenger brand, we are looking to win customers by offering a better user experience, and also deliver a better deal for dealers by delivering genuine buyers to their dealership. CarsGuide's brand positioning is open, transparent and the consumer champion."
During the new campaign, which has been going since October across TV, radio, digital and outdoor, new private listings have increased four-fold.