Case study: How SA Health closed the immunisation gap
Campaign: Aboriginal Immunisation
Client: SA Health
Agency: Showpony
Background
In March 2013, there was a huge 21% gap between the percentage of Aboriginal children and non-Aboriginal children aged 12 months old who were fully immunised in South Australia.
Only 71.20% of Aboriginal children aged 12 months were full immunised compared to 92.15% of non-Aboriginal children.
South Australia's immunisation rate for Aboriginal children was also the lowest in Australia, 14% lower than the national average of 85.69%.
Immunisation is one of the most effective public health measures to prevent contagious disease. Yet, despite the South Australian Childhood Immunisation Program providing free vaccinations at birth, two, four, six, 12 and 18 months of age, the immunisation of South Australia's Aboriginal children continued to lag behind.
This was of serious concern, as due to a number of socioeconomic and cultural reasons, Aboriginal children are more vulnerable to the spread of contagious disease than non-Aboriginal people. Aboriginal children are hospitalised at much higher rates than non-Aboriginal children for preventable, but potentially fatal, diseases such as rotavirus and whooping cough.
Within the context of Federal and South Australian Government funding for the 'Closing the Gap' program, action needed to be taken.
Objectives
Our broad objective was to increase immunisation rates in South Australian Aboriginal children aged zero to seven years, with a major focus on zero to 12 months of age.
An ambitious stretch target was set to close the gap between the immunisation of Aboriginal children and non-Aboriginal children aged zero to 12 months. This required an increased vaccination rate of 21%. No other Australian state or territory had successfully 'closed the gap' in immunisation rates.
Strategy
Research and client interviews uncovered a variety of key insights to guide strategy:
95% of Aboriginal children in South Australia are born in public hospitals,
many Aboriginal people are reluctant to deal with mainstream health services, much of which is driven by a 

fear that their parenting skills will be judged as 'not good enough' by non-Aboriginal health practitioners,

the role of 'family' and 'kinship' in Aboriginal communities means decisions are often based on the consensus of extended family and community rather than on the opinion of key individuals in the immediate family group,
the fact that Aboriginal parents want what all parents want 

for their children: success, happiness, safety and improvements in life,

many immunisation providers are hesitant to ask, 'Are you 

of Aboriginal or Torres Strait Islander origin' or assume a child or person is not of Aboriginal descent based on their appearance, and

as marketers we needed to understand that we do not fully understand and that, despite 

our best intentions, we needed to acknowledge that Indigenous families are the experts in what it means to be an Aboriginal family.
Strategic options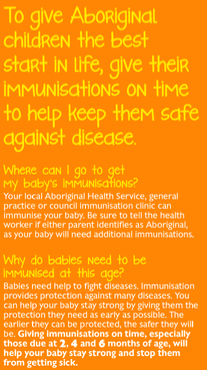 These insights helped us identify two broad strategic directions for consideration:
Personal and heartfelt. Break through the perceived cultural complexities and barriers often presented when marketing to an Indigenous audience. Focus on the fundamental human truth that, as parents, we all want the best for our children.
Kinship and community. Target the broader community, based on the insight that parenting decisions are often based on consensus within extended family and kin views.
Strategic decision 
In consultation with SA Health, option one was determined to be the approach most likely to succeed. This decision was guided by three observations:
95% of Aboriginal children are born in public hospitals, which provided us with the opportunity to target parents directly,
the ability to connect directly with each parent on an emotional level had the greatest potential to create behavioural change, and
our ambitious target of a 21% increase in immunisations demanded a direct and personal approach.
Channel strategy
The fact that 95% of Aboriginal children in South Australia are born in public hospitals enabled us to focus our strategy entirely on a personalised approach. In addition, all immunisation providers could be communicated with via direct channels. These direct channels enabled us to absolutely maximise effectiveness and efficiency with zero wastage.
A summary of our channel strategy is as follows:
campaign facilitated by staff from SA Health Immunisation Branch,
immunisation packs provided to mothers of Aboriginal babies in hospital when their baby is born,
information sheets provided to SA immunisation providers via direct mail and face to face,
A2 posters supplied to immunisation providers and community centres,
DL postcard mailed to parents of Aboriginal children due for vaccination, and
DL postcard mailed to parents of all Aboriginal children overdue for vaccination, reminding them their child is still at risk while not fully vaccinated.
Execution
A gift-pack was developed and given to Aboriginal mothers in hospital after their baby was born. The pack included three grow suits sized 000, 00 and 0, which included our campaign message 'Help me stay strong; get me immunised' and the key immunisation ages 'two months', 'four months' and 'six months' on the sleeves of the respective suits. The 000-, 00- and 0-size suits were designed to be the perfect fit for children aged two months, four months and six months.
The pack also included a play toy as well as a simple DL brochure explaining the importance of immunisation together with some FAQs. The contents were packed in an appealing carry bag.
Use of language, imagery and colour were critical in positioning our campaign in a relevant way for our target audience. Newborns are immunised  while in hospital, so the challenge of our campaign was for parents to remember the two-, four- and six-month immunisations – and to get them on time.
Orange, ochre and mustard colours were selected to connect with our Aboriginal target market. Typography was clean and simple.
In addition, information sheets explaining the campaign were sent to all immunisation providers in South Australia. This was accompanied by a series of A2 posters to be placed within their practices and community centres.
Results
The most recent Australian Childhood Immunisation Register (March 2015) shows that our ambitious campaign targets have been achieved and we have closed the gap in childhood immunisation:
91.8% of Aboriginal children aged 12 months are now fully immunised in South Australia.
More Aboriginal children aged 12 months are fully immunised in South Australia (91.8%) than non-aboriginal children (90.8%). This is the first time ever in South Australian history.
South Australia is now also leading the way nationally. For the first time ever, the percentage of Aboriginal children aged 12 months who are full immunised in South Australia is higher than the national Aboriginal average (87%).
The South Australian figure for Aboriginal children is also higher than the national average for non-Aboriginal Australians (91.2%). This is also the first time this has happened in history.
The campaign won gold in the Small Budget category at the 2015 Australian Effie Awards.
* * * * *
Join Marketing Pro to gain access to premium content, including in-depth case studies
* * * * *