Australian first as Domain introduces Messenger bot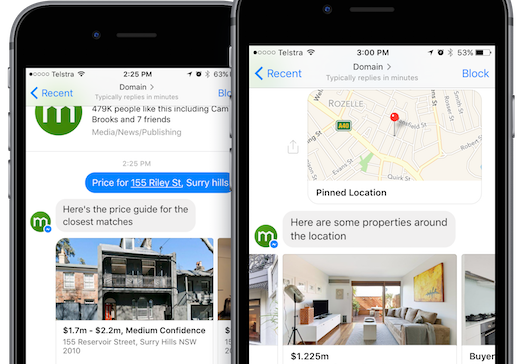 Domain has launched a Messenger bot that allows customers to search property information.
Real estate site Domain has become the first Australian company to introduce bots to its service via Facebook's Messenger platform.
Domain's bot allows property searchers to begin a Messenger chat with Domain, by dropping a pin or searching locations, the artificial intelligence bot will show them properties relevant to their location or search.
Those wanting to know the value of a house they see can chat with Domain for instant pricing and a full property profile on any address – even ones that are not for sale – from Domain's Home Price Guide, which holds information on 13 million properties throughout Australia.
"Consolidating property search into one of the most popular consumer apps creates a whole new experience for Domain's audience. It is widely cited that consumers spend around 85% of their time using just five smartphone apps each month. Creating a Domain bot for Messenger allows a more natural communication interaction and saves consumers time flipping between apps and websites," says Damon Pezaro, chief product officer at Domain.
Domain joins US brands like CNN and 1-800 FLOWERS as an early adopter of Bots for Messenger.
Bots for Messenger, which was introduced in April at Facebook's F8 conference, can provide automated content such as weather and traffic updates, as well as customised communications where consumers can place and confirm orders and reservations, shipping notifications, and search for and share receipts from previous purchases.
–
READ: Marketing's rundown of the innovation on show at Facebook's F8 conference »
–
While the platform is artificial intelligence based, it aims to entice consumers by offering a personal, streamlined way to interact with others.
It offers developers the chance to engage with Messenger's 900 million users.
Here's a demonstration video of the Domain Messenger platform.
* * * * *
LOOK INSIDE: The social issue – Marketing's current print magazine issue, for all the latest detailed analysis of all things social.
* * * * *