Centralised media focus brings major rejig at Fairfax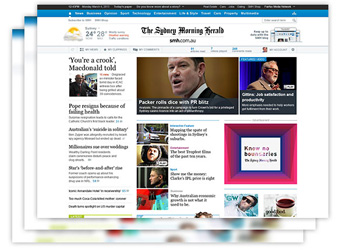 The latest reshuffle to hit Fairfax is led by the creation of a new national sales team which will represent all publications previously managed within Metro Media, Financial Review Group, Fairfax Regional Media and Agricultural Media.
Fairfax's latest move has again been motivated by the ever-evolving new media landscape with agencies looking well beyond traditional means to turn more dollar.
The multi-pronged new team will take charge of metropolitan publications including The Sydney Morning Herald, The Age and Canberra Times; Business publications including The Financial Review, BRW and Smart Investor; Rural and regional publications including more than 200 mastheads.
It includes display advertising in Fairfax's classified and transactional businesses with Domain, MyCareer, RSVP and Stayz, with other Fairfax brands such as Daily Life, Drive, Essential Baby, Good Food and The Vine all being covered.
Fairfax chief executive Greg Hywood says of the overhaul: "Fairfax has an enviable set of advertising clients. In many cases, our deep relationships with these clients span multiple Fairfax divisions, functions and brands [so] consolidating these relationships will allow us to work in true partnership and make the most of Fairfax's large, diverse and valuable audiences."
Meanwhile, local and direct sales for regional publications will continue to operate independently of the National Sales Team, and the Fairfax Radio Sales team will remain within the Fairfax Radio division.
Fairfax digital gun Ed Harrison has been promoted to lead the National Sales Team as Group Sales Director, reporting to newly appointed Managing Director, Australian Publishing Media, Allen Williams. But on the flipside, Metro Media chief executive Jack Matthews and Regional publishing head Allan Browne depart the company.
The management structure of the National Sales Team will be broadcast late April.