Charting the evolution of outdoor media into connected, branded properties
With mobile technology changing the way brands connect with consumers, Belle Kwan investigates how out-of-home media is evolving into mobile-enabled branded properties, and the ways your brand can benefit from the ability to tap or scan. 
While it may be the oldest form of advertising, out-of-home (OOH) media has been resuscitated over the last five years, with the popularisation of digital and mobile technology breathing new life into what not long ago was regarded as an old, and rather tired, medium.
While we are all used to catching a glimpse of a billboard while cruising down the highway, or making a mental note to check out that newly released movie after seeing its promotional poster at a bus stop, interactive out-of-home media encourages consumers to do more than just take a quick look.
The introduction of digital technology in OOH media spaces has shifted the medium away from being purely a broadcast channel to one that can be interactive.
"Out-of-home advertising has always been regarded as a broadcast medium that reached masses, and was used generally for brand awareness campaigns," says Jane King, marketing manager at Adshel. "Perceptions have now changed. With mobile and digital technology, OOH advertising can go from reaching a broad audience to engaging with a consumer one-on-one, straight off a poster," she says.
"With Australia having one of the highest levels of mobile technology penetration in the world, we know for a fact that Australian consumers love interacting with technology, and it has become instinctual for them to want to touch, scan and play when the opportunity is presented to them," explains King.
"Instead of being just another advertisement, DOOH advertising has become a form of entertainment for consumers. We do not interrupt, but instead, provide entertainment to consumers at times and locations when they are looking for things to do.
"The challenge is coming up with fun and relevant ways to engage with consumers at these moments and places, such as at a bus stop. Woolworths, for example, allowed commuters to buy groceries straight off a bus shelter poster through a QR (quick response) code. It was convenient, it was immediate, and people loved it.
"Unlike other media," King adds, "OOH providers have kept up and moved with consumer behaviour, embracing technology, and we have seen great results. From 2011 to 2013, we have seen a 300% increase in mobile executions used in our clients' campaigns."
Right time, right place
Brendon Cook, CEO of oOh! Media, stresses the importance of location and environment for an effective DOOH campaign: "One key factor in a successful digital outdoor campaign is the relevance it has to the environment. You want to give consumers the chance to engage and have fun with your campaign and, to do that, you need to talk to them at the right place, with the right message.
"Google Play chose airports around Australia to execute their DOOH campaign, because people had high dwell time and would be looking for ways to be entertained. The Meat and Livestock Corporation, on the other hand, chose signboards in retail environments close to supermarkets to provide recipes. It's really no different to any other type of advertising – it all comes down to contextual relevance," says Cook.
Describing brands' current involvement with DOOH advertising as in its test and trial stage, Cook says that in the next two years we can expect to see many more brands incorporating DOOH in their campaigns. "From that, there will be plenty of lessons to be learned about how to use this new form of advertising effectively."
Charmaine Moldrich, CEO of the Outdoor Media Association (OMA), is highly optimistic and excited about the potential of outdoor advertising that will be made available to brands through DOOH media. "The opportunities are endless," she says.
"New mobile technology allows brands to connect with customers anywhere, engaging them on their daily commute. A great example of the potential of OOH when combined with digital and mobile [technology] is the 2013 charity campaign for Wall of Hands. At the launch event, we used touch-screen shopalites that took people's pictures and then invited them immediately to donate and upload their picture through their social media channels."
Moldrich believes that DOOH will continue to grow in strength in Australia, but it will take the joint effort of both media providers and creatives. "Integration of new technology is really a team effort, in that operators need to have the capacity, and everyone needs to have the imagination," Moldrich says.
"Consumers also drive this development, with mobile ownership in Australia up to 29 million [handsets]. Over the last five years, we have seen change across all media in terms of consumer consumption, and the challenge for us is to keep up with consumer demand and trends. OOH operators are constantly innovating and Australian brands have been eager to meet us there," says Moldrich.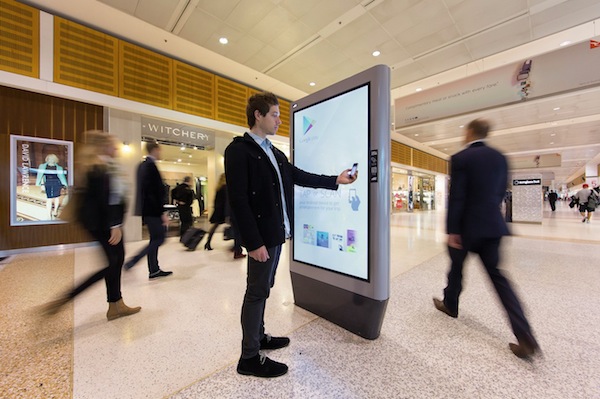 Play with us
One brand that has led the way in pushing DOOH capabilities is Google, with its Google Play campaign executed around major Australian airports (see case study). Gabi Conlon, head of consumer marketing at Google Australia, says the company was looking for a new way to interact with consumers.
"Australians love to try out new things, and the idea [behind the campaign] was to encourage the audience to explore the content in Google Play in an engaging way that had not been done in Australia before. Google Play makes it easy for people to discover all sorts of entertainment content while experiencing downtime out and about. Everyone looks to be entertained when going on a trip, so we chose major airports to launch the campaign in Australia.
"The campaign led to a significant increase in both awareness for Google Play and in-purchase intent for Google Play music," says Conlon.
As part of its 40th anniversary campaign, the Sydney Opera House, utilising JCDecaux sites, incorporated social media into its outdoor campaign, allowing passers-by to interact with screens like a giant tablet device. "The campaign engaged people to think about and share their big moment and memories of the Opera House," says Moldrich.
Another brand that received positive results from a DOOH campaign was Mercedes-Benz with the launch of its new A Class model (see case study). Utilising QR codes and near-field communication (NFC) technology, the campaign encouraged consumers to explore and research the new car.
"Automotive brands have traditionally used large format outdoor advertising such as freeway billboards, but with this particular campaign, [Adshel] brought it down to the street level and engaged huge numbers of people. In fact, the campaign resulted in a 25 percent increase in traffic to the brand's website to learn more about the product," reports King.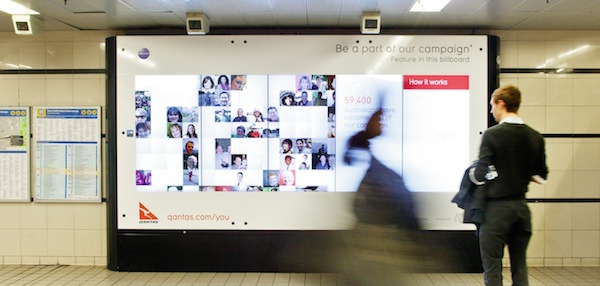 Understanding the technology
While QR codes have been featured in OOH advertising for the last five years, Tony Chilvers, head of interactive strategy at agency CHE Proximity, feels that many brands and agency creatives alike have not fully understood how to execute a DOOH campaign to its full potential.
There are several barriers involved when it comes to using a QR code on an outdoor ad. First, consumers have to download an app to their smartphone in order to scan a QR code, and there are instances where the app might not be able to read particular codes. Second, and more importantly, Chilvers believes that, unfortunately, many brands don't deliver a good experience to consumers after the scan and, therefore, end up losing that audience.
"With a lot of QR-enabled campaigns, what happens on the other side of the experience, post- scanning, has not been well-managed and, as a result, this has given QR codes a negative image in this country.
"But before we even go into providing the right digital content to consumers after the scan, we need to first address the problem of how a QR code is actually used on a piece of advertising. Just the other day, I was at a train station that had a huge outdoor poster, and the QR code for that particular execution was placed at the very bottom right-hand corner. Now, I really don't think anyone would get down on their hands and knees just to scan that code and so, during a post-campaign measurement, I don't think the brand is going to be too pleased with the results of their QR execution," says Chilvers.
Believing that the responsibility lies on both client and agency-side, Chilvers stresses the importance of brands understanding the need to provide the right mobile OOH content, but also the need for agency creatives to properly design, manage and execute the campaigns.
"Scanning a QR that leads to a brand's website is not exciting enough. Indeed, there is a level of cost and investment in driving a digital campaign, but if a brand has decided to go down the road of DOOH advertising, then they should do it right.
"Take for example a poster at the bus shelter – if you are going to go through the effort of making the ad scannable or tap-able, then that should be your primary call-to-action. You want consumers to look at it and think, 'I want to tap that because there must be something that I want to see', not, 'OK, potatoes are on special for $3.99′. It should be a single, simple message to the busy consumer who is already bombarded with advertising everywhere else – scan this, tap this and you will be rewarded."
With NFC technology now an included feature on the majority of smartphones (while OOH providers and agencies wait with bated breath to find out whether the next iPhone model will come to the party), industry experts are certain that this technology will only continue to open doors for the potential of DOOH.
"NFC will become mainstream in the next two to five years," predicts Cook. "Everyday transactions will happen via NFC, and consumer confidence in this technology will grow. Once that happens, the action of tapping and scanning will become second nature."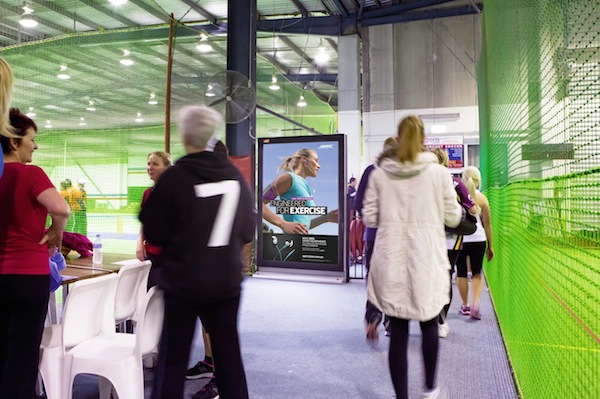 Chilvers, who confesses to being extremely excited about NFC becoming an everyday part of our lives, also believes that Australian consumers' current hesitation with sharing information digitally will become less of a barrier.
"Once NFC technology and mobile devices start delivering a utilitarian purpose, such as providing coupons in a grocery store or allowing consumers to pay for goods using NFC transactions, or even to function as a travel card for public transport, then the willingness of consumers to access brand messages via NFC for entertainment purposes will shift and it will be welcomed."
One company that is leading the NFC innovation is Australia-based company Tapit. With the company's technology featured in prominent DOOH campaigns for brands such as Xbox, Telstra and Nike, chief of operations and co-founder Andrew Davis feels that education of all stakeholders (media owners, agencies and clients) is key to a successful future for this technology.
"By giving everyone the education they need on how NFC and related technologies can add value to a client's outdoor media activities… it allows outdoor media campaigns to reach a new layer of depth, going beyond just an opportunity to see.
"I firmly believe that domestic consumers will be welcoming of the technology; however, the key thing for NFC right now is ensuring that the broader industry provides and offers services that allow NFC to be used in a daily context, such as for payment and ticketing," says Davis.
He is also extremely positive about the uptake of NFC technology when looking at the statistics. "We believe there are close to four million smartphones with NFC in Australia. Twenty-four months ago, there were fewer than 5000. This highlights the fast-paced growth of NFC and this number is increasing every day because all new [non-Apple] smartphones being launched and sold come with NFC as standard."
Reflecting on how the last two years have seen the dramatic uptake of NFC technology from brands, Davis says, "NFC and similar technologies have encouraged brands to consider new ways of using mobile to connect with audiences… and, from our perspective, we're honestly only scratching the surface of what is possible."