Coca-Cola urges Australians to go for gold in Olympics ad campaign
Coca-Cola has launched its #ThatsGold Olympics campaign in the lead-up to the Rio 2016 Games.
Coca-Cola's new Olympics campaign aims to encourage Australians to get into the Olympic spirit and share their own gold medal moments.
Coca-Cola brand manager Romy Mueller is describing it as one of the brand's "biggest Olympic campaigns to date."
Australian hurdling medal hopeful Michelle Jenneke features as the campaign ambassador.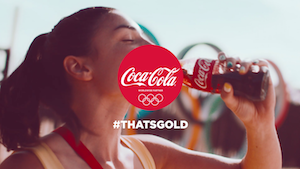 Along with being the TV and press face of the campaign, Jenneke will engage in social media and PR activity to encourage Australians to share their own #ThatsGold moments.
The 30 second video delivers the tagline 'taste the feeling of Rio 2016', continuing Coca-Cola's current global 'taste the feeling' campaign.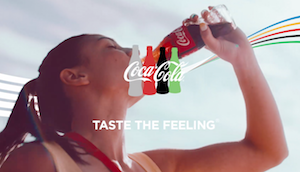 –
Related: in January, Coca-Cola's launched its 'taste the feeling' global campaign »
–
Special limited edition Olympic collectors packaging features across 375ml packs of Coca-Cola, Coca-Cola Zero and Diet Coke, as well as 600ml packs of Diet Coke and Coke Life.
Performers Cody and Alli Simpson join as ambassadors, also contributing social media material, encouraging their large audiences to join and share what #ThatsGold means to them.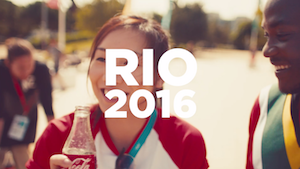 The siblings will also be involved in the Olympic Torch Relay, with Coca-Cola the presenting partner of the Olympic flame on its journey through Brazil
"Coca-Cola and the Olympic Games share many key values that make us so compatible. The gold medal is an icon of Olympic success and our #ThatsGold campaign goes one step further by taking that gold feeling beyond the podium, bringing people from all walks of life together to celebrate everyday moments that inspire us all," says Mueller.
Another key pillar of the campaign's content strategy is a partnership with Storyful, a social aggregation service, to deliver relevant and real-time 'That's Gold' local and global content to Australian households.
Coca-Cola is the longest standing partner with the Olympics, dating back to the 1928 Amsterdam Games.
Here's the 30 second introduction video

* * * * *
For the latest in opinion and case studies on brands and campaigns, purchase a subscription to Marketing
* * * * *