Coke Zero gets $7m push with 'Just Add Zero' campaign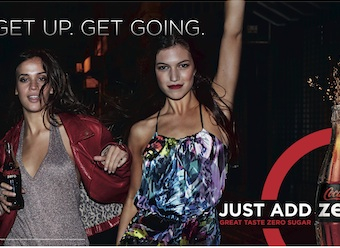 Coke is spending $7 million dollars on its new year 'Just Add Zero' campaign, which will run for seven weeks from 19 January and will include TV, digital, street sampling, out-of-home media, and point-of-sale. As a part of the campaign, a two-million unit sampling activation will take place with key customers including Woolworths.
"Our investment provides us with great opportunity to drive trial and awareness of Coke Zero and keep the brand at the top of the consideration list for Aussie beverage consumers," says Coca-Cola lights brand manager, Angeline Lee.
In a statement, Coca-Cola Amatil said that the campaign is part of, "our ongoing commitment to provide choices that match our consumers' lifestyles. In 2013, we spent 70% more per case marketing Coke Zero than we do on marketing Coca-Cola."
"'Just Add Zero' has been instrumental in driving strong growth for the brand across the past twelve months with a 3% growth in sales value in grocery, and 4% in independent convenience stores with 36% increase in consumers more likely to drink Coke Zero."