Coles recruits celebrity food-wizard to create product range from indigenous ingredients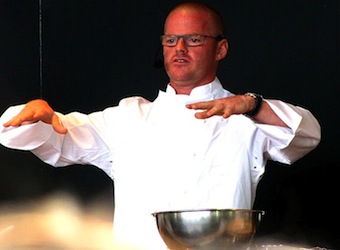 After partnering on a range of Christmas desserts, Coles and world-renowned chef-wizard Heston Blumenthal have formed a partnership that will see Blumenthal create a range of products for the supermarket that will "embrace Australian and indigenous ingredients."
Blumenthal and his team are currently meeting suppliers and manufacturers and exploring Australian ingredients for the development for his new range, which will be available at Coles from Autumn 2014.
"It's an incredibly exciting opportunity to work with Coles and to fully explore the different tastes and flavours of Australia," Blumenthal says.
"It not only boasts one of the most exciting restaurant scenes in the world but the whole country seems to be excited by the food scene, there's a brilliant energy."
Coles marketing and store development director Simon McDowell says, "As one of the world's best chefs, Heston was the perfect choice for Coles and we're delighted to be working together to bring the most outstanding food to our customers."
"This exclusive partnership signals an amazing new opportunity for Coles and one that reinforces our commitment to continually push the boundaries of food innovation.
"Through Heston's new range, our customers will now have everything they need to bring some Heston magic to their meals, all year round," McDowell says.
The range will feature a variety of products across meat, deli, bakery and grocery and will be updated seasonally.