Audi announces winning fan-created commercial and airs it on TV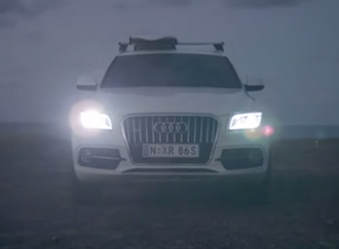 Audi Australia has announced the winner of its interactive 2013 brand campaign, 'Land of Quattro, a global campaign theme that was the first to be produced locally in each market.
The campaign, launched in July, asked Australians what 'Land of Quattro' meant to them and generated 2275 unique TV commercials produced by friends and fans of the brand.
Users were invited to produce their own version of the company's TVC with footage of the Audi Q5 shot from every conceivable angle using state-of-the-art aerial tracking technology and car-mounted GoPro cameras. 'Directors' were able to cycle between cameras across multiple locations that epitomised the Australian landscape. They were able to choose vehicle footage down to the second and slice in vision from a broad range of everyday Australian activities to reflect how they live their own lives.
Jem Downing from Melbourne has today been announced the winner of the campaign after being judged by a panel of experts including Audi's managing director, Andrew Doyle, and head of marketing, Kevin Goult, CEO of agency Holler, Mike Hill, along with Australian actors and brand ambassadors Richard Roxburgh and Naomi Watts.
The 'Land of Quattro' campaign, launched at the end of July, saw more than 150,000 unique visitors head to the specially-developed microsite to interact with the Audi brand.
Audi's general manager, marketing, Kevin Goult, says the campaign has been extremely successful with more than 880,000 interactions with the site for periods of over 18 minutes.
"Congratulations to Jem. He produced a very dynamic commercial as part of our 'Land of Quattro' campaign, and as a result, he's heading off to Europe in January 2014 as our guest to experience the very heart of the brand," Goult says.
Also as part of the prize, Downing's 'Land of Quattro' TVC was aired nationally on Sunday 29 September 2013, with his name appearing in the credits as director.