Design as a business competency: the convergence of CX, innovation and brand
Design as a business competency has never been more important, writes Designworks' Tim Riches, and the winners of this year's Good Design Awards prove the point and offer great insight into the convergence of CX, innovation and brand.
In an increasingly competitive market people have more choice, can make more informed choices and are more easily informed by others sharing their experiences. TripAdvisor, Choice, UrbanSpoon and Compare the Market as businesses exemplify the value that people place on making more informed decisions using sources of information other than advertising.
In this environment, the ability to make more functional and desirable products, services and experiences, that drive satisfaction and advocacy, has never been more important to business success. Especially when more and more companies adopt satisfaction/advocacy measures as executive KPIs.
I recently helped judge the 'interactive' and 'service design' categories at the Australian Good Design Awards. These categories, I believe, are among the most dynamic areas of design practice. Interactive technology continues to be one of the great forces for change and has been responsible for elevating the importance of design to business to new heights. 'Service design' is emerging at a great rate in Australia, both as an in-house capability and in consultancy form.
Design as a business competency – why does design matter now?
Convergence of design, data, insight and engagement is one of the key emerging trends that is defining how design fits into business
Data and analytics is a transformational force on many levels. From a design perspective, one of the most ways in which 'big data' can help businesses is identifying and quantifying  pinch-points in the customer experience.
Knowing what matters most to customers and framing the problem to address it takes on heightened importance – these are insight driven activities, and require profound human connection to do well. Many companies talk about customer-centricity, but are well and truly out of their comfort zone when it comes to the reality of acting on real insights.
These opportunities almost always require companies to change the way they interact with their customer. However I acknowledge getting better at agile – and meaningful – interaction is challenging.
'Design thinking' processes fuse analysis, problem definition and insight development with ideation, and providing a means of testing and improving. It also requires new ways of working  to achieve efficiency of team member deployment and delivery of projects.
Back to the Good Design Awards: the overall winner, Caroma's Marc Newson-designed range of bathroomware (pictured below, details here) is an inspired range of quality, highly desirable products. At a brand level, it exemplifies the value that great design can bring to a mainstream brand. While the commercial value of the design investment – in sales and brand value – is still playing out, it certainly seems like a transformation for greater market relevance and should position the brand as an accessible premium product.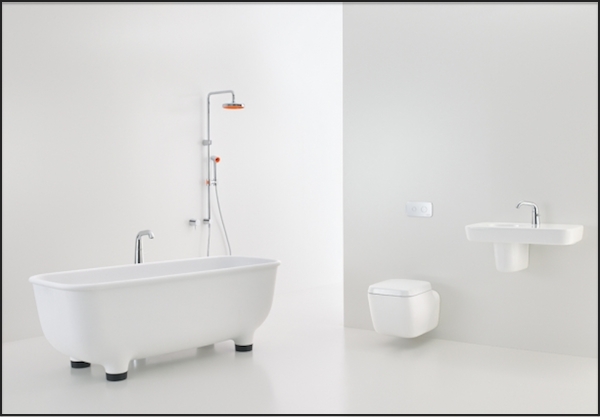 Bupa's human-centered design toolkit (pictured below, details here) provides a good overview of the kinds of processes that companies are deploying to be better designers and managers of customer experience.
The Bupa example demonstrates the way that design thinking has finally been embraced by major Australian businesses, usually in the guise of customer experience (CX) or innovation. Other major companies with increasing in-house capabilities include Westpac, Telstra, AMP and Woolworths.
In services businesses, these teams are sometimes playing the role as the hub of innovation – where traditionally product manufacturers have had tech led research and development teams playing this role. I'd argue that product management in a services business is essentially now a design task, because it's about the purchase and usage experience of the product as a set of interactions.
Speaking to the people that lead them, these in-house design groups seem to be creating value in two distinct ways: delivering innovation or improvement projects that don't neatly fit into organisational structures (ie. that require cross-functional collaboration), and being a force for cultural change and capacity development in the company (ie. champions for being user-centric, creative thinking and collaborative).
It's fair to say that the human interaction of the design thinking process is one of the most distinctive – and transformational – aspects of this way of working. The impact of the working experience is an important part of Ideo's reputation.
The winner of the Good Design 'service design' category ('Co-designing for disaster preparedness', pictured below) brings this to life very powerfully in a great demonstration of design thinking process creating value that is as much about building capacity in the participants as they are about the output of the process.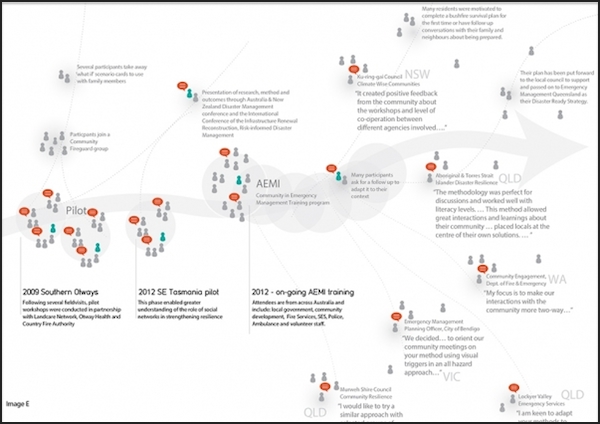 Design thinking also links to today's more flexible modes of project delivery – like agile project management – with its emphasis on test and learn and faster speed to market.
Key challenges for the future
Change is always hard, and the new reality of how customers come to love brands is a big shift for companies who are still coming to terms with the fact that they are not in control. But immersing in a cross-disciplinary world of design over the last few weeks has highlighted a couple of factors that really seem to matter most:
1. Organise around the customer
Customer experiences traverse the organisation, cutting across departmental lines. Design thinking and service design is very much about 'the flow' – how simple and seamless the overall experience is for the customer.
It's all about the connectivity between channels of experience. Designing the organisation to actually place this as a central organising and operating principle will be a serious competitive advantage for those companies that can really commit and deliver.
2. Reframe the value exchange with external agencies
One of the common topics of conversation within businesses that build in-house design or CX capability is the nature of the relationship they have with agencies. Especially in service design, the execution of a project is often largely internal. But it still needs external specialists to deliver change to specific touch-points and provide that outside-in reality check and cross-pollination of influences that supports integrity and originality in the solution.
My hypothesis, too, is that more companies, especially in services and retail, will converge CX and brand, and start leading brand strategy from experience rather than communications. This will shift how internal and external teams work together and change 'what drives what'.
In this increasingly competitive market using design as a business competency has never been more important – the winners of this year's prestigious Good Design Awards aptly prove the point, and the entries as a whole offer great insight into the convergence of CX, innovation and brand.
Tim Riches is managing director Australia for Designworks. He is a brand professional and business leader with 20 years experience encompassing brand consulting, communications, design and research, in Australia and around the Asia-Pacific region.