Desperate to feel what it's like to be tackled by an AFL football player? Enter the 'Alert Shirt'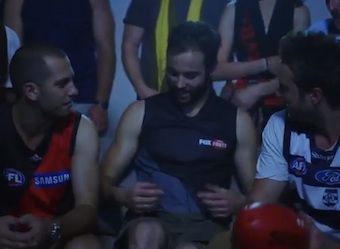 As the Australian Rules Football season approaches, Foxtel's creative agency, CHE Proximity has launched a new campaign that allows AFL fans to physically feel what the players are feeling throughout the game.
The 'Alert Shirt' uses wearable technology and real-time game data is transmitted via a mobile Bluetooth app (available on IOS and Android) to the electronics inside the shirt. The Alert Shirt then converts this data into powerful sensations that simulates the live sporting contest and can be used during live games shown on Fox Footy and Fox Footy HD on Foxtel.
"Up until now fans have only been able to connect with their team on an emotional level," says CHE Proximity executive creative director, Leon Wilson. "Now they can physically feel every impact, rush of adrenalin or anxious heart beat."
Foxtel executive director of sales and marketing, Ed Smith, adds, "We know AFL fans are amongst the most dedicated sports fans in the world, and at Foxtel we're always looking for ways our subscribers can connect with the game and their favourite team. The alert shirt is the first of its kind in the world and we're proud to offer this ground-breaking technology to AFL and Fox Footy supporters."
The product development process saw CHE Proximity and wearable technology experts We:Ex working closely with AFL captains, Scott Pendlebury of Collingwood, Luke Hodge of Hawthorn and Trent Cotchin of Richmond, to get a deep understanding of how the body feels during key moments of the professional game.
"The good thing about the Alert Shirt is now people at home will be able to feel the impact of what players feel on the ground," says Hawthorn Football Club captain, Luke Hodge.
The Alert Shirt is available to AFL club members who purchase Foxtel and loyal Foxtel fans.
http://youtu.be/maHGf3LNGMs