Destination NSW launches user-generated campaign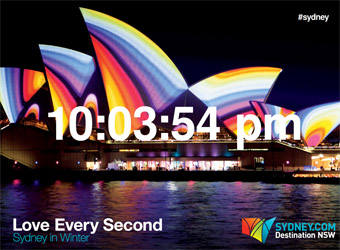 Sydneysiders are being urged to act as ambassadors for their city in a new tourism push from Destination NSW featuring user-generated content.
Consumers will be asked to share images of their favourite Sydney events, places or experiences which will then feature in outdoor executions across Melbourne, Brisbane and Auckland, giving user-generated content a significant role in the campaign.
Dubbed 'Love Every Second in Sydney' the campaign aims to encourage Australians and Kiwis to visit Sydney during winter, highlighting the city's attractions as well winter events including Vivid Sydney, the Sydney Film Festival, the 18th Biennale of Sydney and the Bledisloe Cup.
Chief executive officer of Destination NSW, Sandra Chipchase, says the campaign theme captures what research has shown people want in short breaks and weekends away: exciting, vibrant experiences packed into every second.
"There is a particularly strong presence in Melbourne featuring inspiring Sydney images streaming onto the Young and Jackson billboard adjacent to Federation Square and Flinders Street Station, as well as highly-visible Sydney-branded tram wraps. In Brisbane, enticing images will be projected onto prominent buildings and Sydney advertising will saturate key CBD locations.
The campaign will also include magazine advertising, digital and social media, and draw on images of a couple enjoying 48-hours at Sydney attractions, events and venues.
More than 10 high-profile bloggers will also contribute to the campaign by 'seeding' content into various elements of the campaign.