'Diabeetus', 'Gushing Granny': Mountain Dew crowdsourcing goes wrong
Soft drink brand Mountain Dew has found itself in the most embarrassing crowdsourcing debacle since Kraft's iSnack 2.0.
The fallout comes from a crowdsourcing competition started by a restaurant to find a name for its soon-to-be-released homemade green-apple-flavoured Mountain Dew concoction. Labellled 'Dub the Dew', the competition was hijacked by internet sadists, resulting in submissions that may be amusing to others, but damaging to the brand at the same time.
Names such as 'Diabeetus', 'Fapple', and 'Granny Squirter', populated the top ten leaderboard of submissions for the competition on dubthedew.com, a site that has since been closed down.
Mountain Dew released the following statement to distance themselves from the stunt:
"'Dub the Dew', a local market promotional campaign that was created by one of our customers – not Mountain Dew – was compromised. We are working diligently with our customer's team to remove all offensive content that was posted and putting measures in place to ensure this doesn't happen again. Mountain Dew has a legacy of engaging its most loyal fans to tap innovative ideas for the brand through really successful programs like 'DEWMocracy' and 'Your Malt Dew' and so we sincerely apologize to all of our fans who may have been offended by this customer's program."
The leaderboard: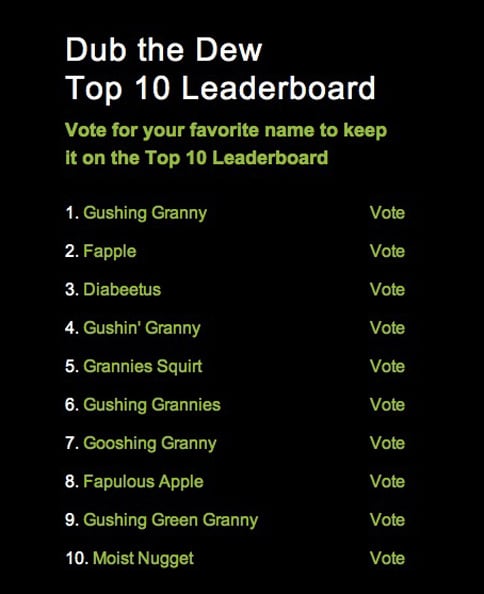 Source: AdWeek.