Donut King shakes up brand with 'extreme' customisation and maybe drive-thru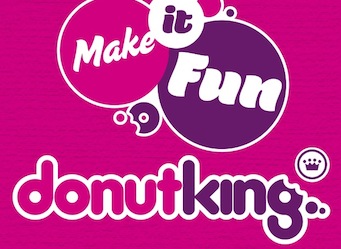 Franchising group Retail Food Group has announced a change in direction for its Donut Kind brand, launching a new brand platform focusing on customisation, innovation and "fun".
The change will see Donut King outlets update their logo, uniforms, packaging and signage, as well as introduce the tagline 'Make it fun'.
Donut King's managing director, Gary Best, says of the change: "The retail sector has changed drastically over the past decade, so it makes sense that to remain relevant to customers, retailers need to change as well.
"Donut King is leading the way by embracing trends in technology, customisation and food to provide our customers with a unique in store experience. We are offering our customers more than just a product, we are offering them an interactive, customised experience," Best says in a statement provided to media.
The first product under the new platform is called Shaker Shots, donuts you place in a bag, pour coloured powder on and shake. According to Best, choosing the flavour combination, using the shaker bag and enjoying a unique, unknown taste are all elements that will create a fun experience for customers.
"When customers order Shaker Shots they'll choose their flavour shots then gleefully empty the sachets into the shaker bag and shake it all up. This is where customers can get creative: will they move their whole body or just their hands? Will they try one flavour first, and then add the next? Will they share flavour combinations with friends? When you're shaking up a bag of delicious donuts you can't help but have a smile on your face," he says.
"This is the new direction for Donut King, a customisation of products as well as a customisation of experiences."
On the brand's five year vision, Best says in a statement that the level of product customisation has only just begun and that drive-through stores are on the way.
"In five years, an extreme level of customisation and in store engagement with Donut King will be the norm across all of our stores.
"We will have proliferated the Donut King system in areas such as drive thru and other non-traditional locations outside of the shopping centre environment we currently operate in."
Best curiously attributes the move towards customisation to technology: "In the digital age, technology and social media has put our customers well and truly in control. Customers want to be able to do things their way, and on their terms. We are embracing this by integrating technology into our stores that allows customers to customise everything about their order, from shakes and donuts to hotdogs."
How that will actually work is unclear, but we can't wait to find out.
Here's the TVC for Shaker Shots.