Foxtel launches second brand, Presto, for on-demand film service coming later this year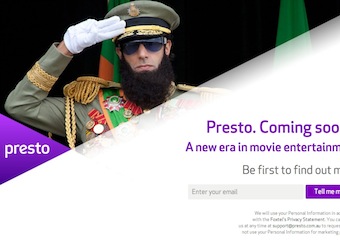 In the race towards on-demand video-streaming services becoming mainstream for film and television content in Australia, Foxtel has announced Presto, a new subscription platform and a second brand for the company. The announcement beats Seven and Nine to the punch, and is a warning shot to Quickflix and any potential overseas entrants.
Presto will launch "later this year" and give on-demand access to the content Foxtel licenses for its movie channels for a monthly fee, and indicates a drive to beef up the company's product offerings for different price points and consumption preferences.
Richard Freudenstein, Foxtel's chief executive, says of Presto: "Australians are hungry for different ways to experience great entertainment when they want and how they want. The launch of Presto as a second brand allows us to meet the needs of different customer segments more effectively and is another way Foxtel is continuing to make its content more accessible.
"Foxtel offers distinctive ways to watch: the market-leading full Foxtel service for the whole family, complete with the widest range of channels, high quality products like iQ, HD and Foxtel Go. We also offer flexible and spontaneous access to our content with Foxtel Play."
Presto is the first major un-bundling of Foxtel's content. Internet-delivered service Foxtel Play, and Foxtel Mobile, another cut-down version of Foxtel only available on smartphones, require customers to commit to package deals. A viewer who wants to watch movies currently must, using the "cheaper" Foxtel Play, pay for a $25-per-month basic package and another $25-per-month package of movies and television drama, all broadcast to a schedule.
Presto will cost a monthly $24.99 fee for users to stream content in license to the Foxtel Movies channels on demand, and will initially launch on PC and Mac, with tablet access for subscribers to follow at a later date.
Freudenstein says Presto is the next major step in customised content offerings, and is aimed at utilising Foxtel's assets and expertise to capture a share of the growing digital media market.
The announcement of Presto comes at a time when free-to-air broadcasters Nine Entertainment Co and Seven West Media are believed to be close to making announcements of similar on-demand content services.