Dual-screen video platform extends events' reach online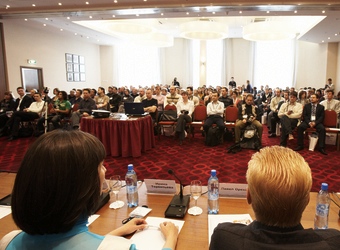 Organisers of events that feature presentations – that is, every conference, seminar and summit out there – have a new tool up their sleeves to spread their content further.
Melbourne-based software development company Cogent has launched a new video platform to share events online, called Eventer, that aims to simulate as close to a live audience experience as possible online, by presenting multiple streams of video such as the presenter and their slides, or a discussion panel and audience participants at the same time.
The San Francisco MusicTech event broke in the new platform last month and was able to double the size of its audience, with online viewers spending an average of 40 minutes viewing its presentations, says co-founder and executive producer Brian Zisk, pointing out the benefits of increased exposure for both the summit and the presenters.
The Sustaining Women in Business (SWB) event that took place in Melbourne last week employed the platform to spread to a wider audience speakers such as Mia Freedman, Dan Gregory and Gregory's long-time collaborative partner Kieran Flanagan. Megan Dalla-Camina, presenter at SWB and author of Getting Real About Having It All says having the ability to negate the barrier of distance is ideal for events such as SWB: "SWB tackles topics that are relevant to every woman and aims to enable women to successfully build both a rewarding career, as well as a healthy, balanced and fulfilling life.
"The experience for the delegates is priceless, and to now have the ability to bring more people into this experience from all around the world, through the industry first technology Eventer, is a wonderful thing to be part of. As a new author this is especially rewarding, knowing that the messages from Getting Real About Having It All can reach and help more people."
See a couple of examples below to see Eventer in use at the SWB event, one of a presentation and the second of a panel discussion.
'The Third Space' presentation by Adam Fraser
'Conversation with…' panel discussion hosted by Megan Dalla-Camina