Duolingo gets massive TikTok following thanks to passive-aggressive owl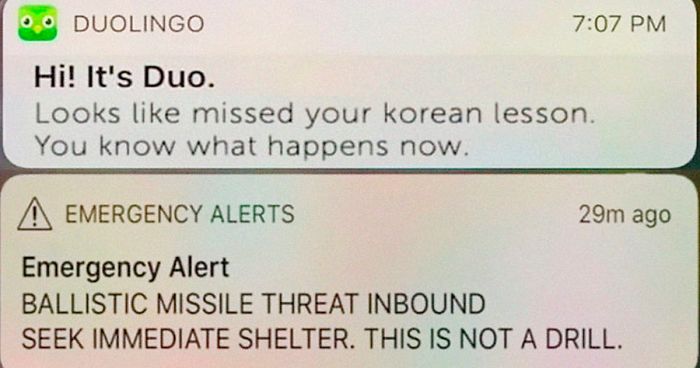 Brands can't always control what its product becomes associated with. It's a sorry fact of advertising life. Sometimes you get lucky and Kylie Jenner starts wearing your band's t-shirts. Other times, OJ Simpson tries to flee the country in one of your best-selling cars, like Ford. Not every accidental association is bad, though. 
Duolingo became a bit of a meme for its constant, stalkerish, and slightly threatening notifications. The company decided to lean into this unintended(?) association by bringing the mascot to life for a hilarious April Fool's Day ad a couple of years ago. The brief video showed the owl, evidently fed up with the miniscule effect his messages were having, showing up in real life to remind people to practise. 
Duolingo goes to TikTok
More recently, Duo, the duolingo owl, has become a bona fide hit on TikTok. The language company's page has accumulated more than three million followers in just over a year. This is largely thanks to the many viral shorts the company has made starring the unhinged owl. 
Initially, the company's TikTok presence consisted of users sharing unique words in their native languages. This seems like a pretty natural concept for the company. But these videos weren't getting a lot of attention on the platform. That changed when the mascot was brought back. 
The first video featuring Duo garnered 800,000 views, over three times more than their previous best-performing video. The video also received 130,000 likes, which is a phenomenal ratio. The next few TikTok videos didn't feature the owl, and while the viewership was still improved substantially, they didn't receive nearly as many likes. 
Finding its (TikTok) feet
The next video to feature the owl received a massive 3.5 million views and nearly 730,000 likes. That was enough of a proof-of-concept for the marketing team, as the malignant mascot began to be the focus of all the company's TikToks. One highlight includes Duo escaping from a closet. Another shows him chasing down anyone who would dare use Google Translate instead of actually learning another language. The latter also tied in with the contemporaneous Squid Game memes circulating socials at the time. 
It's clear that people love this sort of marketing. It's not really trying to drive people to its products with a pitch. Instead, it's trying to establish a funny, enjoyable online presence. This ensures that people will remember Duolingo when they want to learn a language. 
Additionally, it's an example of how brands are approaching marketing as not just an advertising tool, but as a source of entertainment. 
This also can be a source of income if the company's able to get ad revenue on social platforms.
It's a good reminder for brands to consider intentionally and unintentionally branding. Leaning in to what people are saying about you can really work, as long as you do it right. 
We all found Duolingo's TikToks to be a real hoot (sorry).