Fairfax to slash costs as profits fall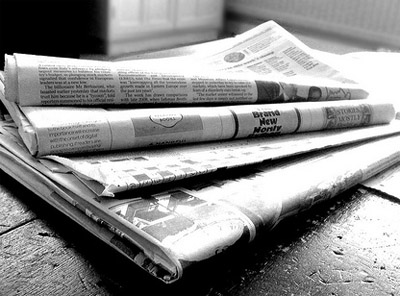 Fairfax has announced plans to slash $170 million in costs over the next three years, according to an update to the ASX.
The company, which notched a 44% slump in net profit for the first half of the financial year, intends to make the savings by reducing its print distribution, sharing content across platforms, and centralising its sales, systems and services.
The three-year plan was announced by chief executive Greg Hywood as the company shared its disappointing figures for the six month period ending December 25.
Hywood says stresses in finance, retail and real estate sectors contributed to 'extremely poor' advertising conditions, particularly in New South Wales and Victoria.
"While the results are disappointing, over the last six months Fairfax Media has driven change through the business and we have done it in the midst of a severe cyclical downturn in our major markets."
"We now have a clear three-year strategy and detailed implementation plan to ensure we make consistent progress in reshaping our business and resetting our cost base to withstand both structural and cyclical threats."
According to the update for the half year ending December 25, revenue dropped 5% to $1.2 billion and net profit slumped 43.9 % to $96.7 million.
The company's digital operations increased revenue by 14% year on year, but its radio and metro divisions fared poorly, shedding 38.5% and 32.3% in profit respectively.
Its metro division, which includes print and online operations of the Sydney Morning Herald and The Age, saw a 10% decline in ad revenue, down to $442 million, and 5% decline in circulation revenue, down to $95 million. Online revenue, however, was up by 17% to $127 million.
Image credit: NS Newsflash.
Marketing headcount and agency spend slashed in more P&G cuts
After cutting 1600 jobs earlier in the year, Procter & Gamble plans to wipe out 4000 to streamline its marketing budget and save $10 billion by 2016.
The cuts, announced by CEO Bob McDonald, will see the company reduce headcount, shift more money to digital, use more multi-brand approaches and cut its external marketing spending by $1 billion.
AdAge reports that McDonald said the cuts will focus on all areas of marketing, not just media or agency costs but. "We're not looking to make dramatic cuts in the support of our brands," he commented.
"Even delivering a modest level of efficiency each year can amount to nearly a billion [dollars] of savings versus just letting these costs grow at the same rate as sales. We're very confident we can do this while building the number and quality of consumer impressions each year."
Marketing costs are the third-biggest spend pool, behind people and materials, for the company which spends nearly $10 billion a year on TV, print and online advertising.  
The cost-cutting in developed markets comes at a time when the company is looking to expand into developing markets. AdAge reports that it is looking to establish its toothpaste brands, including Oral-B and Crest, to almost every country in the world by 2015.
The consumer goods giant has already embarked on a major multi-brand effort with a host of initiatives built around the 2012 Summer Olympics spanning 30 brands.
McDonald says P&G's Summer Olympics program, which launched in January, delivered more than 2.5 billion impressions in traditional and social media in the first month alone producing a bigger overall impact than the brands could have individually.
A local spokesperson told Marketing that the restructuring was a global program, but the impact on specific countries had not yet been announced.